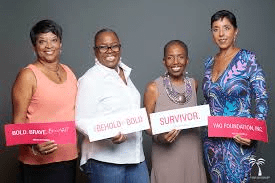 My Girlfriend's Closet and the Yvonne Ashley Galiber Breast Cancer Foundation Inc. (Foundation) have partnered to host the opening of a breast cancer survivor exhibit and 'Behold the Bold' collection launch from 3-5 p.m., Saturday, Nov. 16, at My Girlfriend's Closet at 15 King Street/Prince Street (next to Zeny's Restaurant).
The exhibit, which is free and open to the community and will be open through Dec. 31, will support the continuation of YAG's outreach activities beyond Breast Cancer Awareness Month in October as well as celebrate My Girlfriend's Closet's eighth year in business.
Upon entering the boutique, visitors (who are referred to as 'girlfriends') will have the opportunity to view a visual novel of breast cancer survivors from St. Croix. To support mammograms for women and men impacted by breast cancer, the store is launching a collection of handcrafted items that promote the Foundation's campaign: Behold the Bold.
In addition to fashion pieces that will be sold to benefit this local nonprofit organization, the store and the Foundation will host a meet and greet with survivors. There will be a community talk on breast cancer early detection and treatment.
The images of survivors will be displayed to celebrate the journeys of the women who share their story, but they will also contribute to the narrative of My Girlfriend's Closet's campaign on women empowering women – #Girlfriendism. During the campaign, which will run from October through December, guests will have an opportunity to obtain resources on breast cancer screenings, support services and more. Pink hors d'oeuvres and cocktails from A Better Day Cafe will also be served during the meet and greet as pink is the color for breast cancer awareness.
According to Khnuma Simmonds, owner of My Girlfriend's Closet, "Yvonne embodies Girlfriendism daily through her personality, passion and recognition of breast cancer survivors; so, in turn, we want to support her Foundation by featuring a collection of pink items that can directly benefit women in need of services. Likewise, the images of survivors not only represent recovery and healing, but they are symbolic of the power that women can have when they uplift and are uplifted by other women. Being that MGC's mission is to empower women through fashion, faith and friendship, and we are celebrating eight years of creating safe spaces for women to be empowered on St. Croix, we are excited to marry our Girlfriendism campaign with YAG's BeHold the Bold campaign to raise both awareness and funds for this cause."
The store's launch of the Foundation's collection aims to raise $350 at minimum, which is the average cost of just one mammogram.
Speaking for the organization, Yvonne Ashley Galiber Breast Cancer Foundation founder Yvonne Ashley Galiber expressed great appreciation for the generosity of My Girlfriend's Closet.
"There is a critical need to provide mammograms to women and men with limited access to healthcare and no health insurance," said Galiber. "Khnuma's willingness to keep this concern at the forefront of the community's conscience speaks volumes about her commitment to empower the most vulnerable among us in very meaningful ways. We congratulate her eight-year success as a small business owner and highly commend My Girlfriend's Closet for choosing to give back and for encouraging others to do the same."
The collection and exhibit will be featured through Dec. 31.
To make a donation or for more information on the Yvonne Ashley Galiber Breast Cancer Foundation or the Survivor Exhibit, call 332-9115 or email [email protected]. For more information on the YAG Collection Launch and/or the Girlfriendism campaign, contact My Girlfriend's Closet at [email protected]