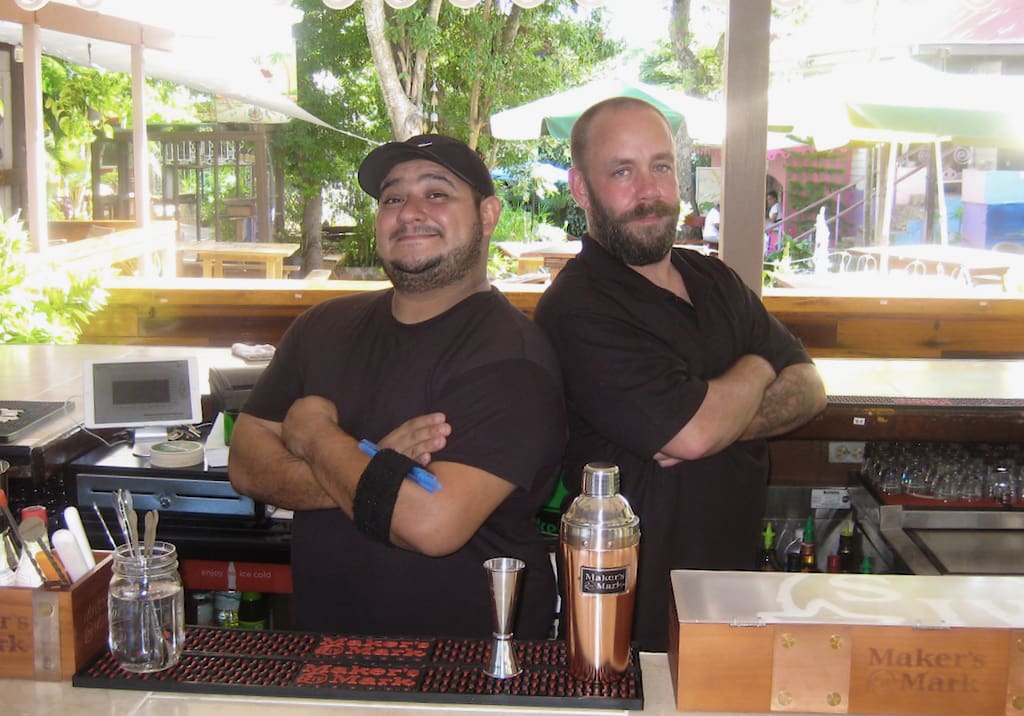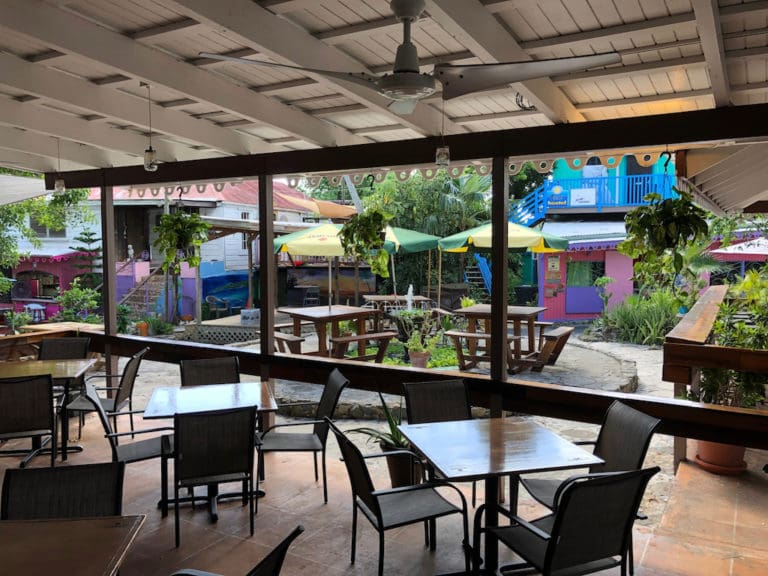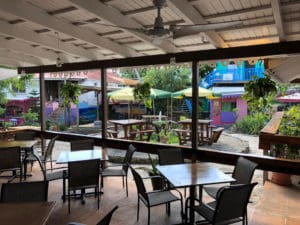 Nestled in the heart of Tillett Gardens' art community, Whiskey Business Bar and Grill is the latest addition to the territory's list of themed gathering spots.
True to its name, the new eatery boasts the first-of-its-kind whiskey bar on St. Thomas, where house made sour mix is a notable specialty.
For those seeking a quality scotch, bourbon or Irish whiskey – neat, on the rocks or in a signature cocktail – Whiskey Business offers intriguing options. Patrons also are invited to select whiskey flights – multiple servings in small measures – an increasingly popular way to experience whiskey's complex attributes. Spirits also play a part in some of the menu items, such as made-to-order Whiskey Burgers. Beverages include a complete selection of wine, cocktails, soft drinks, beer and local craft brew.
Seating is a choice between covered patio, umbrella-topped garden tables, or joining patrons at the spacious oblong bar. Throughout the area, whirling ceiling fans keep temperatures cool. Despite its central location in Anna's Retreat, the restaurant has an "outpost" ambience enhanced by flowing water fountains as well as an abundance of local flora and fauna. By day, the balance of food, fun and good vibes is casual and low-key. After dark, energy is more upbeat, often accompanied by live entertainment.
The shared vision of co-owners Brian Cox and Brandon Lutzy, the whiskey bar concept evolved from a lengthy mid-summer meeting initially focused on naming their newly acquired enterprise.
"We were really excited about opening but agonized over what to call the place," Cox recalled. "It felt like we sat for hours going through an endless list without any decisions. When we were about to leave, Brandon's girlfriend stood up from the table. We both noticed what she was wearing at exactly the same time: a Jameson 'Whiskey Business' T-shirt."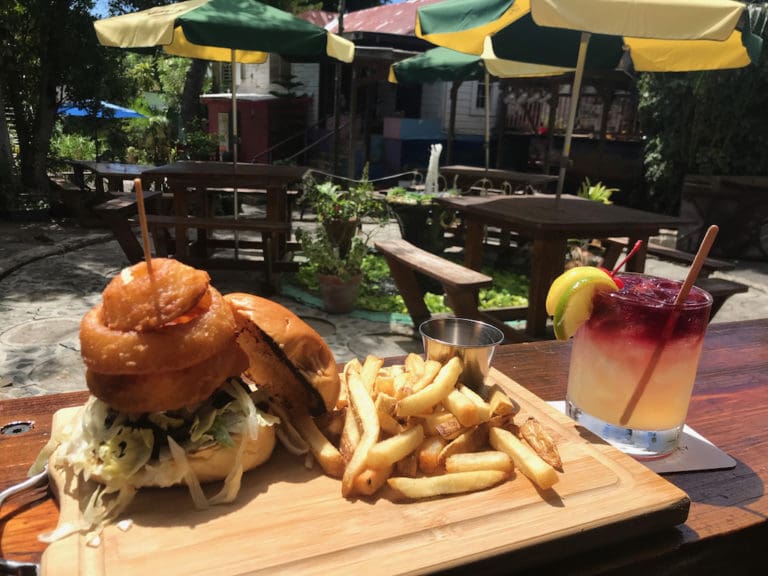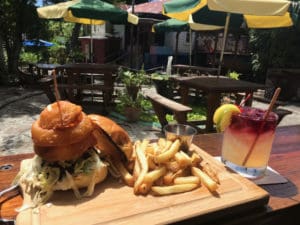 With a thoughtful smile, he said, " We looked at each other and knew instantly we had our answer."
Added Lutzy, "St. Thomas didn't have a whiskey bar and we were aware of the growing trend toward pairing whiskey with restaurant dishes. We knew this was our chance to create something really unique."
Cox and Lutzy first met five years ago. At first blush, their path from friendship to best buds to business partners seems akin to a lighthearted movie plot where adventurous co-stars dream of opening a tropical bar in a faraway place. In reality, the two are no strangers to the industry – or the territory.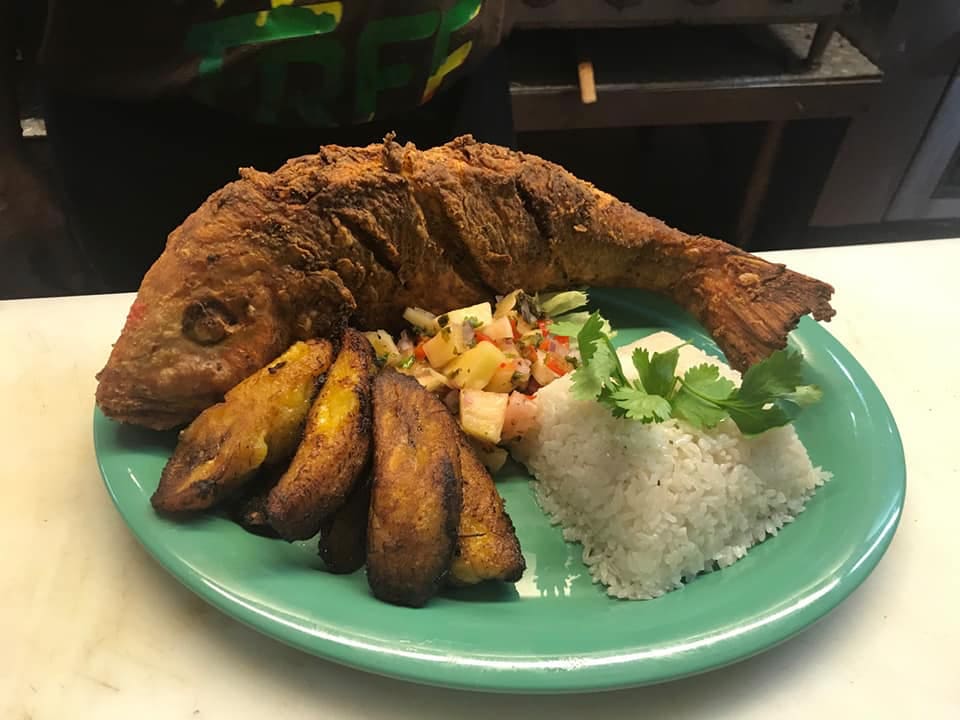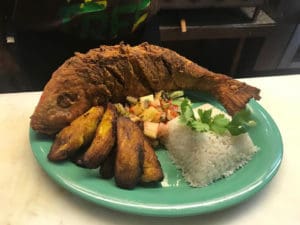 Raised in Saranac, New York, Lutzy attended and graduated from the University of the Virgin Islands and remained in the territory after earning a degree in business. While bartending at local establishments, he started participating in bar contests. His trophy collection includes a first place win at the St. John Iron Bartender Mixology Competition.
A native of the Maryland/D.C. area, Cox was immersed in the business from an early age. His mother ran a restaurant, as well as a bed and breakfast, and both his grandfather and uncle were chefs. He graduated from North Carolina Central University and prior to relocating to St. Thomas in 2014, he had spent a decade working in a fine dining Italian establishment.
"Brandon and I work incredibly well together," Cox said. "We have a lot of restaurant experience but the best thing is we developed a rhythm that works for us."
That rhythm is reflected throughout Whiskey Business, where custom-made wooden tabletops are emblazoned with the restaurant's logo. Cox explained that he reached out to nonprofit charitable corporation, My Brother's Workshop, to handle the sizable task of building the furniture.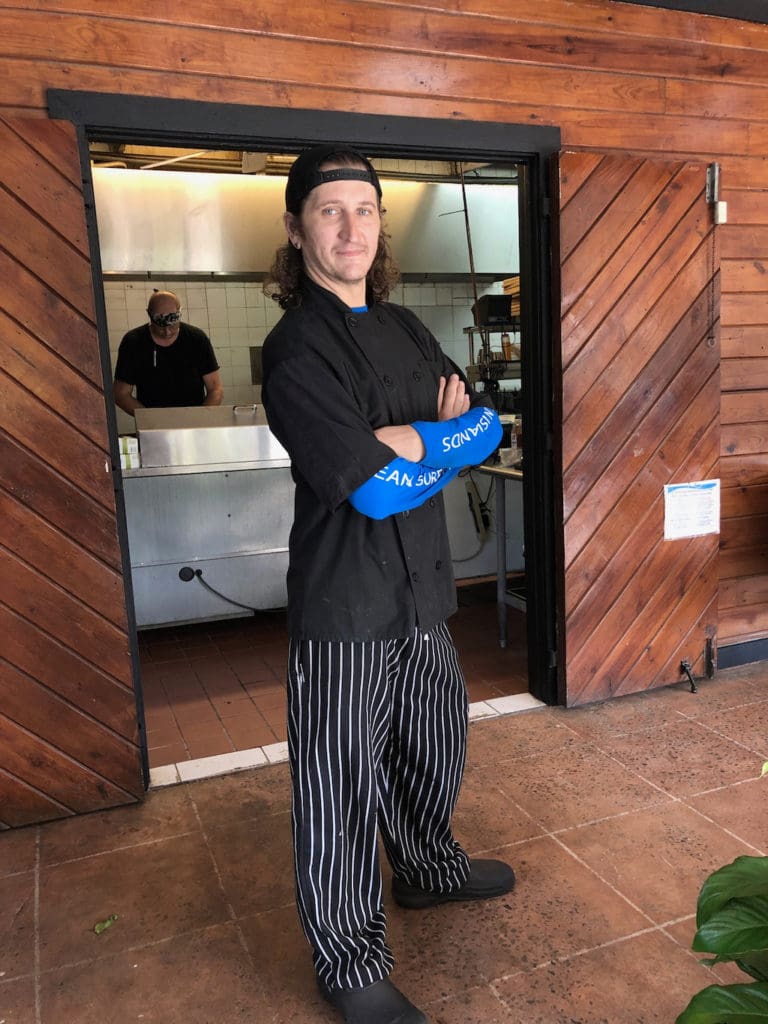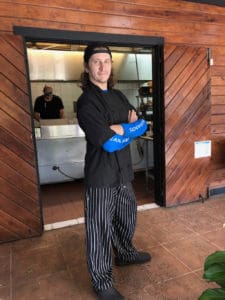 "We both believe in giving back to the community," said Cox.
Menus at Whiskey Business were created by Chef Charlie Moan. After working initially as a consultant, the seasoned chef – whose background includes training at the prestigious Singer Island Marriott Resort & Spa – agreed to remain on staff. He and his team work diligently to serve what he calls "feel good food," from the appetizers and salads to sandwiches and entrees. Blackboard specials include options such as whole snapper, country fried chicken and waffles and pork chops with apple sauce.
Hours at Whiskey Business are 11 a.m. to 11 p.m. seven days a week. The official grand opening is scheduled to be celebrated in November.
More information is available online at the restaurant's Facebook page, or by calling 340-715-5220.