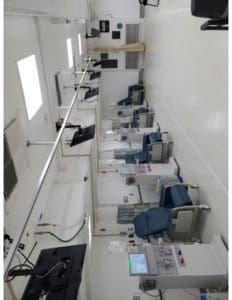 Acting Chief Executive Officer Dyma B. Williams, RN, BSN, MJ, CPHRM of the Gov. Juan F. Luis Hospital (JFL) has announced the completion and availability of a new, state-of-the-art mobile dialysis facility complex.
Following hurricanes Irma and Maria in 2017, JFL was heavily damaged due to substantial water intrusion and physical damage to its facilities. This damage resulted in a significant reduction in the capacity of the medical center to include a loss of outpatient dialysis services.
Following the hurricanes, an agreement was executed by Odulair and the U.S. Department of Health and Human Services (HHS) for the lease of dialysis trailer units and equipment. The contract with Odulair expired on Sept. 28 and was not renewed. Prior to the expiration, JFL had procured mobile dialysis units provided by Mobile Health Facilities (MHF).
Dialysis patients report that the environment has already improved. Temperature is appropriately moderated, the environment is stable, new dialysis chairs and equipment meet patient needs and each station has a television to entertain the patients while receiving their dialysis treatment.
In addressing the transition to the new modular dialysis units, Williams said, "The JFL team is proud to stabilize and continue patient dialysis services in the community. We continue to do the work, every day, to ensure that this transition is well managed. Without question, this new mobile dialysis complex is an upgrade and now provides for increased working space, patient comfort, better patient flow, improved patient safety and improved functionality for dialysis treatment."
Kyle Affeldt, president and CEO of Mobile Health Facilities, said," We are proud to partner with JFL to stabilize dialysis on the island of St. Croix. In procuring MHF, JFL wanted to exceed regulatory requirements and MHF delivered."
The MHF mobile dialysis facility complex consists of two mobile dialysis facilities. These two mobile dialysis facilities now enable patient access to 12 new dialysis stations, which provide sustaining dialysis treatment for JFL's patients diagnosed with end stage renal disease (ESRD) and kidney failure patients.
These treatments are required three times per week to clean the blood and flush wastes from the patient. This life sustaining blood cleaning is normally a bodily function performed by the kidneys; however, after a patient progresses through kidney failure, the body can no longer perform this critical function. When this occurs, there are only two 2 treatments available to the patient: (1) a kidney transplant (a compatible donor is needed to provide one); or (2) dialysis treatment.
"As an executive team, our focus is to restore critical health care in the territory," Williams said on Thursday. "We are eager to begin the construction of the community's new hospital and the creation of hundreds of health care jobs and positive economic development in the U.S. Virgin Islands. As we await the move into the temporary hospital, we have stabilized dialysis services, first. We ask for the support of the community as we stabilize the remainder of the JFL facility."