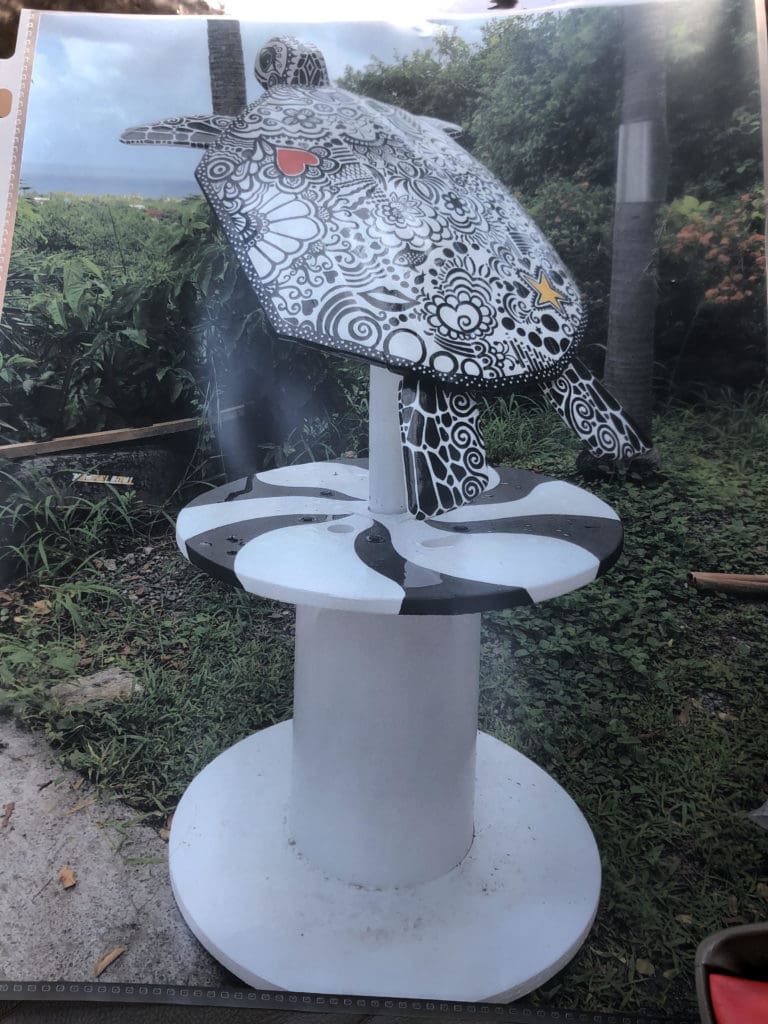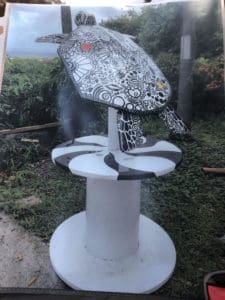 Get ready St. Croix, giant sea turtles are about to inhabit the island. Not to worry, though for these turtles are made of wood brought to life in the most whimsical and unique ways. The HeART of Turtles is the latest undertaking by the St. Croix Walls Project, and it doesn't involve walls at all. Like the project's colorfully painted walls all over the island, this one brings art sculptures to public places and is helping to transform St. Croix into an art-tourism destination.
Glenda Smith, founder of St. Croix Walls Project, came up with the idea for the HeART of Turtles Project after Hurricane Maria. Each wooden sea turtle replica is made of salvaged wood from the storm and reclaimed rum barrels, meticulously put together by St. Croix woodworker Chris Lima. Smith's vision for the project is to beautify the island and expand public art on St. Croix.
Over the summer, local artists submitted their renderings for transforming the turtles into works of art. The artists who were selected spent the past few months painting, gluing and even wiring their turtles into one-of-a-kind sculptures. The artists are Marilyn May, Sarah Lima, Isabelle Picard, Cathy Booth, Becky Snodgrass, Tamara Michael, Claudia Hodges, Waldy Brodhurst, Elizabeth Keith and Lyn Voytershark.
Now that the turtles are finished, the public is invited to the turtle art "hatching" ceremony from 4-8 p.m., Saturday, Nov. 9, at Sandcastle on the Beach Hotel.
Project sponsors include 84 Lumber World Trade, AECOM, Franklin's on the Waterfront, Gretchen Goslin, Joel and Jackie Holt, William Keith Family, Sand Castle on the Beach, Smith Family Foundation, St. Croix Hotel and Tourism Association, and VI Cargo. Project sponsors selected an artist and a location for their sponsored work. In kind sponsors include GoToStCroix, VIGL Horse Racing, and Caribbean Breeze Apartments and Vacation Rentals.
The turtles will be on display at various locations around the island until early 2021. Confirmed location sites are Cane Bay Beach, La Reine Chicken Shack, Sand Castle on the Beach Hotel, Frederiksted Pier, Blue Water Terrace, St. Croix Hotel and Tourism Association's affiliated hotels, Christiansted boardwalk near Club Comanche, Sion Farm Distillery, Leatherback Brewing Company and Silver-Seaborne Airlines seaplane base.
The turtle sculptures will be auctioned in 2021 with the majority of the net proceeds going to Project Promise and Jr. Scientists in the Sea (JSIS).
There will be a free viewing of the turtle sculptures by the public will be from 4-8 p.m., Nov. 9, on the beach at Sand Castle Hotel.
Tickets are $15 at the door for admission to the turtle art "hatching" party in the hotel, which includes signature drinks, hors d'oeuvres, live music and a silent auction.