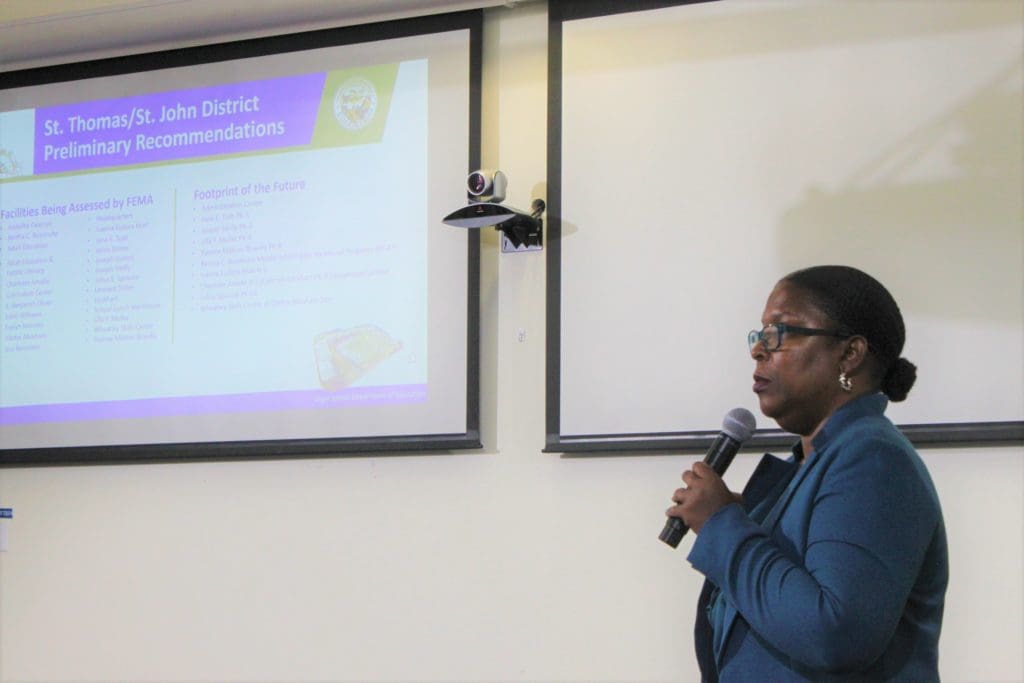 Major demolition and construction of the territory's public schools will begin in the summer of 2020 should FEMA funds arrive as expected in March of that year, said Department of Education Architect Assistant Director Chaneel Callwood during the New Schools Construction Advisory Board meeting Thursday evening.
The large undertaking will completely overhaul V.I. public schools, bringing them up to industry standards, with most expected to be completed by 2024, Callwood said. She said when the request was made to FEMA it was not to simply repair the damaged, outdated school structures but to rebuild and replace everything.
"Now the funds will primarily come from FEMA and I say primarily because FEMA doesn't just award us a grant … what they do is provide reimbursement for eligible costs. So, we are looking at being eligible on the low side for about $800 million," Callwood said. She added that the department believes it will need is closer to $2 billion.
Virgin Islands schools will be eligible for that amount, but Callwood said the department will have to be reimbursed.
The New Schools Advisory Committee will be responsible for following federal guidelines to ensure the appropriation of funds to construct new public schools and modernize existing ones. According to a press release issued by Education, the committee was established in early 2019 and is comprised of 50 individuals who are Education employees, elected officials, business owners, activists, parents and students.
University of the Virgin Islands President David Hall said soon some decisions will have to be made as to how the money will be allocated. The committee and Education want to be sure quality of education will be improved for all children across all public schools.
The redesign process starts by changing the entire footprint of a school, according to Callwood. This entails a mass restructuring and consolidation of several school administrative, educational and district office facilities. Callwood said on St. Croix the footprint of 22 facilities will be consolidated to nine, and on St. Thomas 24 facilities will narrow to ten.
The designing process of the schools will take public input into consideration.
Callwood said the committee will be coming back to the community in the spring of 2020 to create "school-architectural teams" for major projects "which will allow people to work with the architects and come up with designs that reflect the community's values."
Each school will be designed to be different not "cookie cutter schools," Callwood said. She added each school would have its own unique flavor, curriculum and programs.
Callwood said if all goes well the department plans to start demolition on three sites in summer 2020: Charlotte Amalie High School, Addelita Cancryn Junior High School, which is currently combined with Lockhart Elementary, and St. Croix's Arthur Richards Junior High School.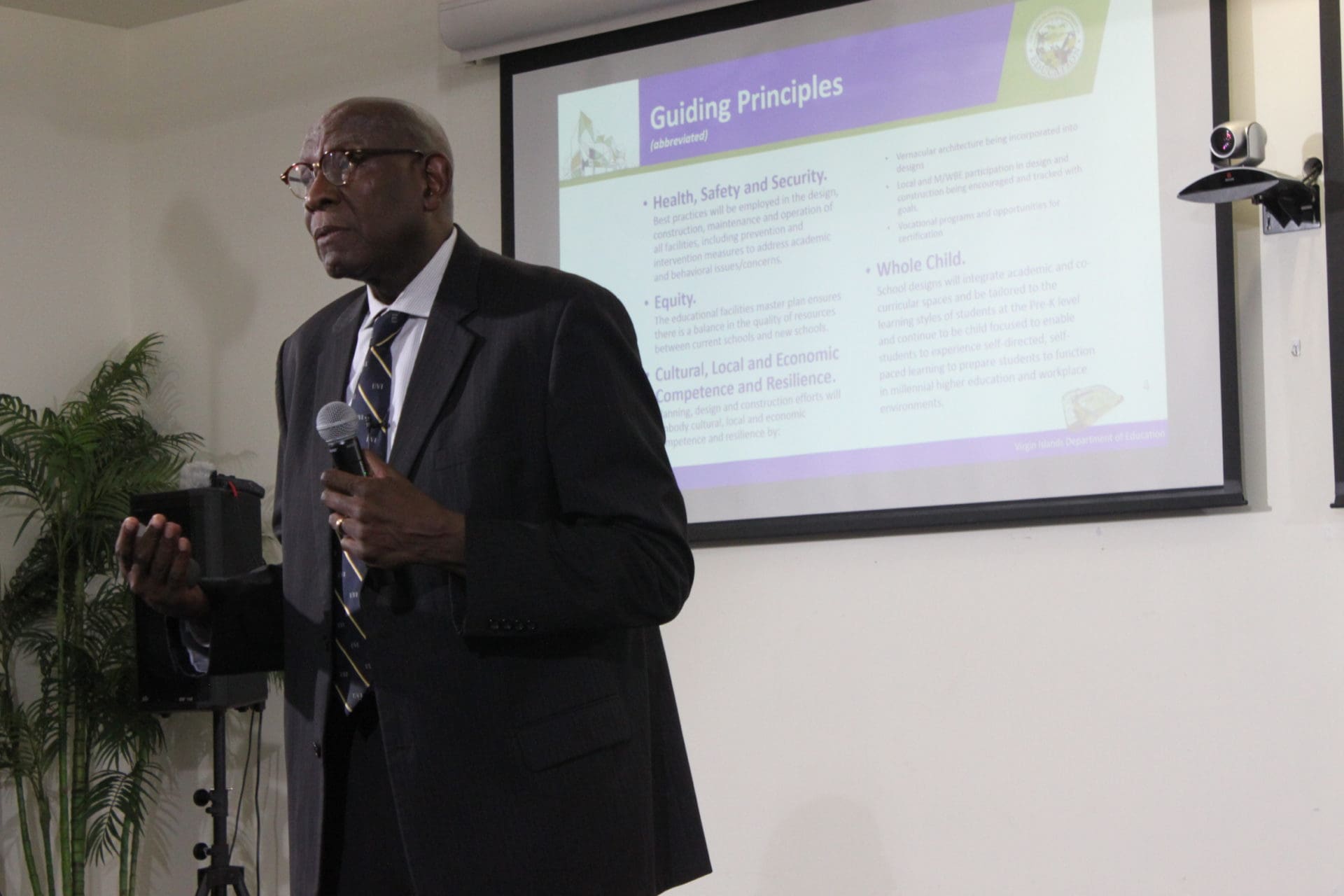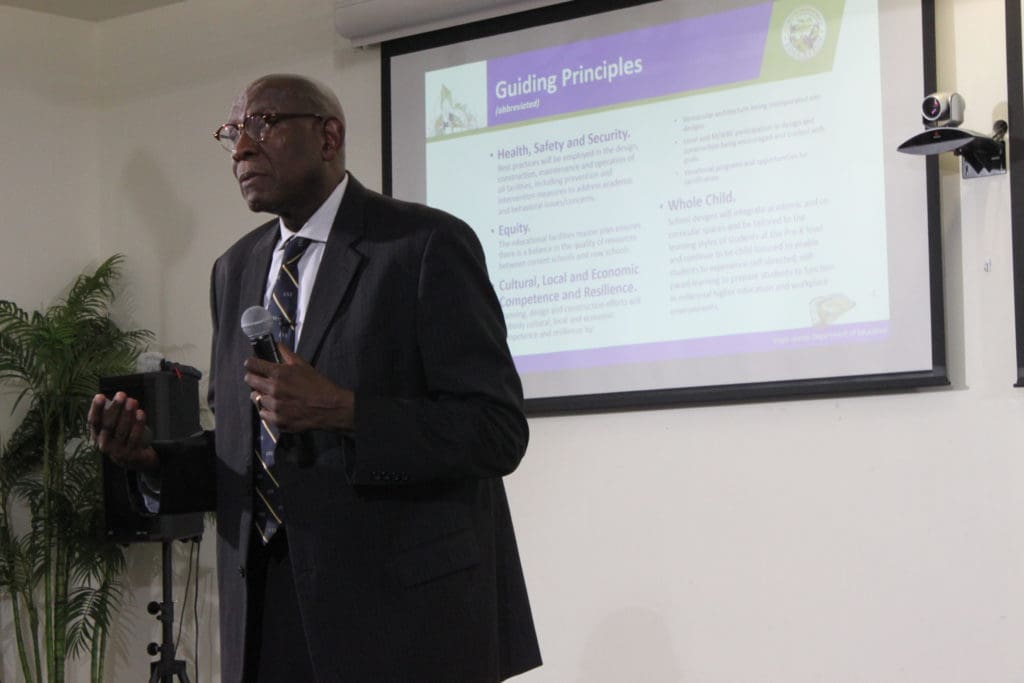 Sweeping changes were discussed by committee members and the public. A large emphasis was put on technology, which was proposed to be incorporated not just into classroom curriculums but the buildings themselves.
Hall said what people need to be thinking in terms of design is what students 40 years from now will need. He presented to the audience the "guiding principles" established by the committee to direct design goals. Principles like health and safety, cultural sensitivity and technology driven facilities.
"The technology plays an important role in how we design these buildings … and the first principle really speaks to how we can use technology to enhance what these buildings can deliver," Hall said.
Department of Education's Territorial Project Engineer Alan Fleming said not only will technology be something to look for within the facilities, but also resiliency against seismic activity and hurricanes.
"Industry standards and educational specifications that we are developing as part of the committee with the DOE will include such things as safety, security and access, hurricane and wind resistance, indoor air quality, hazards, hazard mitigation, resiliency," and more, Fleming said.
The next meetings about the new schools will take place on St. Croix Monday, Oct. 28, at the Claude O. Markoe Elementary School cafeteria; Tuesday, Oct. 29, at the Jaunita Gardine K-8 auditorium; and Wednesday, Oct. 30, at the St. Croix Central High School cafeteria. The public is invited to attend these meetings.