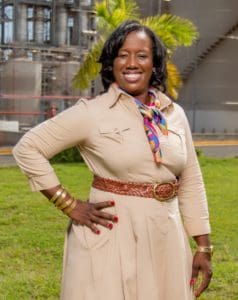 Diageo USVI has announced that Cynthia Arnold has been promoted to vice president, operations, Diageo USVI, and she will lead the 70-person team at the company's Captain Morgan rum distillery on St. Croix.
"We are thrilled to have Cynthia lead our operations on St. Croix," said Erik Snyder, chairman of the board, Diageo USVI. "Cynthia is a trusted and respected team member and manager. We are confident that under her leadership, our USVI colleagues will continue their progress as a high-performing team, further our business as a world-class supply organization and continue making Diageo USVI a great place to work and a valued member of the Virgin Islands community."
Arnold began her career with the company as finance manager in December 2011. Her work in finance was essential in establishing systems and processes to secure contractual payments driven by rum production, including engaging high-level government stakeholders and
external consultants.
Since moving into operations in 2017, Arnold has played a key role in driving improved performance. She has been a leading force in the team, delivering goals while achieving an outstanding safety and quality track record, including ISO certifications, company awards, positive audit ratings and increased production volume and revenues. She was a steadying force during the immediate and extended recovery periods after Hurricane Maria, playing an enormous role in resolving operational issues to help bring production back online.
"I've known Ms. Arnold for many years, and I am pleased that Diageo is recognizing her talents as a dynamic professional and leader," said United States Virgin Islands Governor Albert Bryan Jr. "It is extremely gratifying to see a local Virgin Islander granted the opportunity to ascend the leadership ranks of a multinational corporation. I look forward to continuing to work with Diageo and engaging with Cynthia in her new role as we further optimize the territory's public-private partnership with the company."
In addition to her contributions at Diageo, Arnold brings valuable management experience to her new role, having previously worked as USVI territorial director of unemployment insurance. Prior to that, she was finance district manager at Delta Air Lines corporate headquarters.
"I could not be more excited to lead the team and operations at Diageo USVI," said Arnold.
"We have an excellent crew of production operators, asset care technicians, environmental and technical specialists and business professionals, who have built a track record of making high quality rum consistently and safely. We plan to keep up that pace, and because we believe in celebrating life every day, everywhere, we're going to have a little fun doing it."
She was born and raised on St. Croix, where she graduated from Good Hope School. She still proudly calls "West" her home, where she resides with her husband Kirk and their son Kaya. She holds a Bachelor of Science in Accounting from the University of North Carolina Greensboro and a Master's in Business Administration concentrating in finance from Emory University.