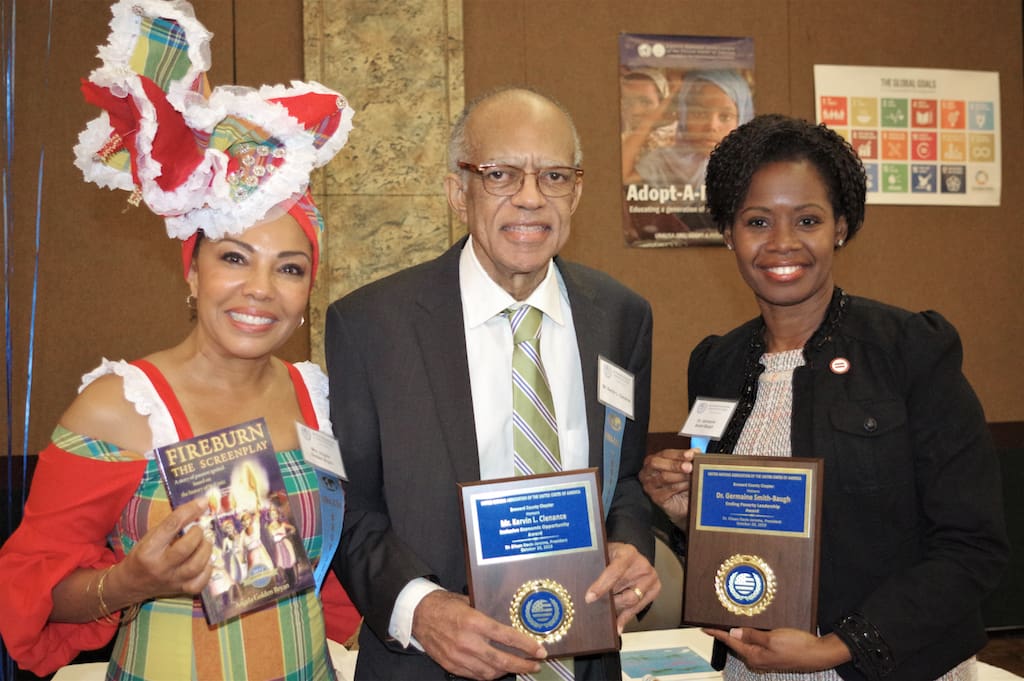 Years of humanitarian work have led two Virgin Islanders, Germaine Smith-Baugh and Kervin Clenance, to be formally recognized during a United Nations Day Celebration in Pembroke Pines, Florida. A third V.I. native, author Angela Golden Bryan, presented her book about Fireburn at the gathering as well.
The United Nations is an intergovernmental organization responsible for maintaining peace and security, developing friendly relations among nations, protecting human rights and promoting sustainable development. On Sunday, Smith-Baugh and Clenance were honored by the Broward County chapter of the United Nations Association, a grassroots group supporting the mission of the U.N.
Clenance Receives Inclusive Economic Opportunity Award
After graduating from the University of Connecticut in his early 20s, Clenance moved back to the Virgin Islands in 1976, "seeking employment and a career and a future." But in a Monday phone interview with the Source he said what he sought wasn't "readily available."
The St. Croix native then connected with contacts in South Florida and built a career in the broadcast radio and sales industry there. But according to Clenance, there was always a desire to contribute to his community at home.
Desire turned into action in the early '90s when Clenance started the St. Croix Jazz Festival and built a radio station on St. Thomas, WTBN-The Breeze. He maintained a career in Florida while traveling to the territory each month to organize the festival and run the station. But his professional work in the Virgin Islands would be brief.
According to Clenance, he chose to stop juggling both pursuits around 1993 amidst a changing political climate in the Virgin Islands and changes in his personal life. Florida has been his home base ever since. While there, he's held such positions as the station general manager for Radio One in Miami, general sales manager of CBS Radio in West Palm Beach, publisher of Legacy Magazine, vice president of sales at WLVE or Love 94 and director of affiliate sales for Reach Media, which produces the Tom Joyner Morning Show.
On Sunday, the U.N.'s Broward County branch recognized him with the Inclusive Economic Opportunity Award. A prepared statement credits Clenance with the ability to create innovative revenue streams and to connect the community with major media outlets through his work as a broadcast and sales consultant.
Asked to explain the significance of the award, Clenance said it referred to his work in organizing events that taught community members how to become successful entrepreneurs, his efforts to create eco-friendly work spaces while in management positions, and his role in bringing environmental issues to the radio airwaves.
These days, the 65-year-old spends time reminiscing on the joy he found in organizing activities such as the St. Croix Jazz Festival.
"You know, ever since I was knee-high to a duck, I wanted to spend time doing things in the V.I., and that's why the Jazz Festival and The Breeze – those two things' synergy came together perfectly," he said. "And that's why when it was over, it was over. But it's something that I had looked forward to for a long time."
He said he's still contemplating ways to contribute to the territory with his skillset once more.
Smith-Baugh Receives Ending Poverty Leadership Award
During Sunday's U.N. celebration, Smith-Baugh was also recognized, receiving the Ending Poverty Leadership Award. Smith-Baugh is the president and chief executive officer of the Urban League of Broward County, a nonprofit organization dedicated to enhancing the quality of life for families in underserved communities.
Her achievements include opening a $9 million Community Empowerment Center in Sistrunk in 2006 and spearheading efforts to secure Greater Fort Lauderdale as the destination for the National Urban League Conference in 2015. The conference drew $10 million to the region with more than 13,000 attendees, according to a prepared statement.
The St. Thomas native has also racked up a host of awards for her leadership in economic development. According to the statement, her most notable honors include Broward Black Elected Officials Community Award, South Florida Business Journal's Diamond Award, Delta Sigma Theta's Distinguished Service Award, Broward County's 100 Outstanding Women Award, United Way's Human Services Professional Award and Broward County Women's Hall of Fame Award. She was also named the 2018 African American Achiever for Community Service by the JM Family Enterprises and was recently inducted into The Jim Moran Institute's South Florida Fellows.
The Source was unable to reach Smith-Baugh for comment on her award as of press time.
Golden Bryan Gives Sample of Children's Book on Fireburn
Virgin Islands author Angela Golden Bryan also participated in the Broward County U.N. Day celebration with a dramatic reading of her soon-to-be-released children's book, "James and the Fireburn."
The book tells the story of the 1878 Fireburn on St. Croix within the context of a fictional story – that of James, a young boy with Asperger's Syndrome, who learns of the rebellion in history class.
Golden Bryan grew up on St. Croix but has lived in Florida for more than 20 years. Although she's built a life abroad, the author continues to share her cultural heritage through her work and in day-to-day conversations with friends and colleagues.
In a phone interview Sunday night, she said it was a conversation on the Fireburn with a sorority sister that led her to become a member of the United Nations Association in Broward County a little less than a year ago.
"She was like 'Wow, Angela … Your book is talking about human rights, gender equality, and standing up for what's right.' She said, 'You know you're a human rights activist,'" Golden Bryan said.
Her friend suggested that she join the UNA. Further research gave her the impetus to do so.
"I'm like, 'You know what? The things that I care about really are a part of a lot of the things the United Nations is doing,'" she said.
"James and the Fireburn" is the second of her two fictional works highlighting the Fireburn story. According to Golden Bryan, the themes within the narrative of the Fireburn mirror the UN's core values because it's the story of a people who rose up against unfair work conditions.