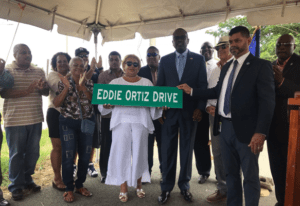 Gov. Albert Bryan Jr. and St. Croix Administrator Sammuel Sanes led a road naming ceremony on Wednesday to honor Eddie Ortiz, who was beloved in the Estate Profit neighborhood for his unyielding and never-ending efforts to improve the quality of life for dozens of families in the largely Hispanic community.
The governor recalled Ortiz as a champion for others – someone every elected official needed to know and someone everyone should emulate.
"He was such a passionate person," Bryan said. "In Eddie you saw that. He never missed an opportunity to reach out for somebody else. It was never about him. It's important to remind our young people about people like Eddie Ortiz."
Ortiz, who died in 2015, was lauded for his decades of selfless service to his community including working with elected officials to improve roads and to install streetlights and working with police officials to rid the neighborhood of criminal activity.
What he is most remembered for, however, was his commitment to keeping Hispanic traditions and culture alive. For decades, Ortiz raised funds to buy gifts for children and organized a Three Kings' Day celebration, a deeply held Christmas tradition in the Hispanic community.
In recognition and appreciation of Ortiz's contributions, Route 663, the road traveling from Queen Mary Highway past Central High School and south to the Melvin H. Evans Highway, was officially renamed "The Route 663 Eddie Ortiz Drive."
The legislation to rename the road and to provide funding to install the signage was proposed and championed by Administrator Sanes while he served as a senator in the 32nd Legislature. It was supported by Senator Novelle Francis Jr., Neville James, Armando Liburd and Janette Millin Young.
"Eddie wanted what was best for his community, and he would do whatever it takes to make this a better community," Sanes said. "I cannot tell you the amount of people that benefited from his hard work. I cannot tell you the amount of children that would come here on Three Kings' Day and get a gift from Eddie Ortiz. And I cannot tell you how proud I am to say that I knew him as a brother, as a friend, as a compadre and as everything else because Eddie Ortiz was an awesome force to be reckoned with. His spirit and legacy lives on in everyone in this community."
Ortiz's nephew, Emerito Torres, also spoke during the ceremony. "Naming this street Eddie Ortiz Drive, it's amazing," Torres said. "It's worth it. He really worked hard for our community. He pushed young people to continue his tradition. He helped other people and was involved in politics, sports, you name it. I know Eddie, wherever he is, he is smiling."
In addition to Bryan, Sanes and Torres, also attending Thursday's ceremony were Sen. Francis, president of the 33rd Legislature, Public Works Commissioner Nelson Petty Jr., Assistant Public Works Commissioner Dennis Brow,  Ortiz's widow Carmen Villegas, sister Carmen Ortiz, nephew Teleforo Ortiz and other members of his family.