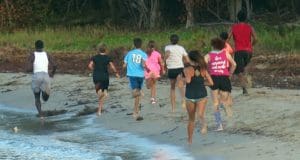 Nine teams of two runners toed the starting line in the sand of St. Croix's Ha' penny Beach for the running of the annual CoastWeeks Beach Relay Race. Makari Mathews'a time was 13:54; Jah Whyte of Good Hope Country Day School, who had the fastest time of the day at 12:42, teamed up to take first place in the race. Mason Lambert took the lead for the first leg, which is a mile out and a mile back in 13:11 for his team, Yeeter's, handed off to teammate Kaedon Gleason, who ran 15:33 was overtaken by Whyte. The time for the St. Croix Central High School team: Hasani Edgar's time was 15:21 and Rabee Abdallah's time 14:17 for third place.
Team Results
1] Makari Mathew 13:54; Jah Whyte 12:42 Good Hope Country Day School (26:36)
2] Mason Lambert 13:11; Kaedon Gleason 15:33 Yeeter's (28:41)
3] Hasani Edgar 15:21; Rabee Abdallah 14:17 STX Central High School (29:38)
4] Nathan Langley 16:15; Randle Nielsen 14:21 Yoink, Yoink (30:36)
5] Candace Felix 17:45; Kirra Lambert 18:01 Queen KC (35:16)
6] Kirshna Barry 17:54; Ashley Bouzianis 19:50 Bouzinbarry (37:44)
7] Aminah Prasad 18:32; Safiya Prasad 14:43 (38:19)
8] Josephine Calhoun 18:41; Shannon Calhoun 21:44 Thing 1 and Thing 2 (38:19)
9] Ruth 22:15; Joanne McJunker 24:32 STX Sis Squad (46:47)
The next race on the V.I.Pace Runners calendar is the 32nd West Indies Lab 5 Mile at 6 a.m., Saturday, Oct. 12. It will start at the Yacht Club across from WI Lab and finish at Cheeseburgers. This will be a time prediction race.
For information, logon to: http://virginislandspace.org or email: [email protected] or call: 643-2557.