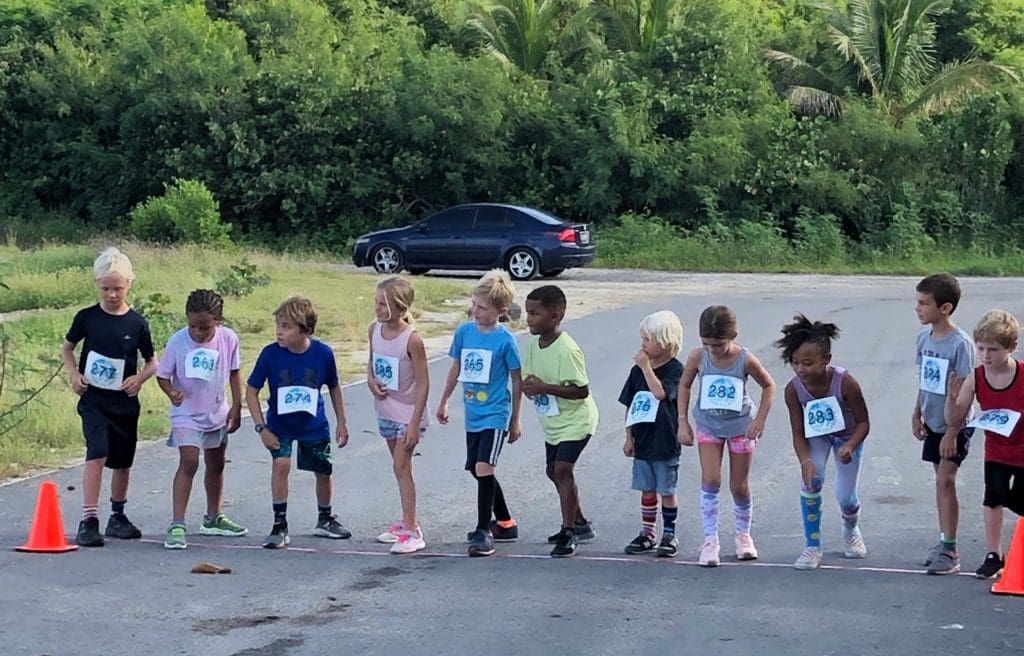 The VI Triathlon Federation held its first event in its 2019-2020 Junior Tri VI race series on Sunday morning at the Susana Ocasio Santana Park in Gallows Bay. The series will include two duathlons (run/bike/run), two triathlons (swim/bike/run) and one aquathlon (swim/run).
The Silly Sockathlon, a duathlon, was open to kids of all abilities, ages 5 to 15, most of whom wore colorful "in theme" socks. The race took place completely within the park and included varying distances depending on four separate age categories.
With only two Junior athletes in the 5-6 category, the race director decided to run them with the athletes in the 7-8 category. Bailey Meluskey, proving to be a good little runner, finished his .25-mile run, .5-mile bike and .25-mile run in 8:32. Hans Stutzman, age 5, jumped into his first-ever Junior Tri VI race and finished with a beaming smile.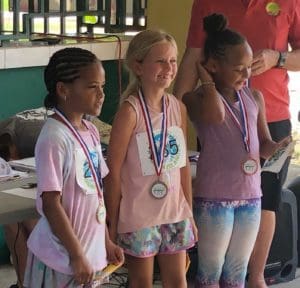 Henry Collins, of the St. Croix Montessori School, was in a tight race with Bjorn Stutzman until the final run in the 7-8 category. Henry finished the .25-mile run, 1-mile bike and .5-mile run in 12:53. Stutzman crossed the line in 13:48. Hudson Mirocha, of Good Hope Country Day School, was third. After laying out a speedy run, Priscila Sharmouj was the first female finisher and fourth overall. Ella Chewning closed nearly a one-minute gap and finished in second place, just 7 seconds behind Sharmouj. London Curran was third.
The athletes in the 9-11 category immediately followed. Tristan Samuel posted a 4:33 for the first .5-mile run; Hana Bronstein was close behind in 4:47. Once on the bike, Teague Gleason overtook Samuel on the 1-mile course and cruised into first place, with Helen Collins now in sight. Samuel regained his lead on the second run and finished in first place with a time of 15:42. Gleason was second in 16:01. Jack Bohlke was third. Collins was the first female finisher and third overall. Bronstein, while improving her time from last year's race by over two minutes, was the second female finisher. Annabelle Croney was third.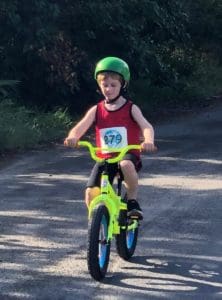 Four 7th graders made up the 12-15 category. Kirra Lambert appeared very focused and proved to be the fastest of the group. She tore up the 3-mile bike course and put herself more than a minute ahead of classmate Candace Felix. Ava Kirschweng held her own in her first Junior Tri VI race. Mason Lambert used the event as a weekend workout and provided good pacing for the girls.
The next race on the schedule is a Splash 'n Dash on Nov. 3 at Chenay Bay. For more information on the Junior Tri VI series, call 513-2707.