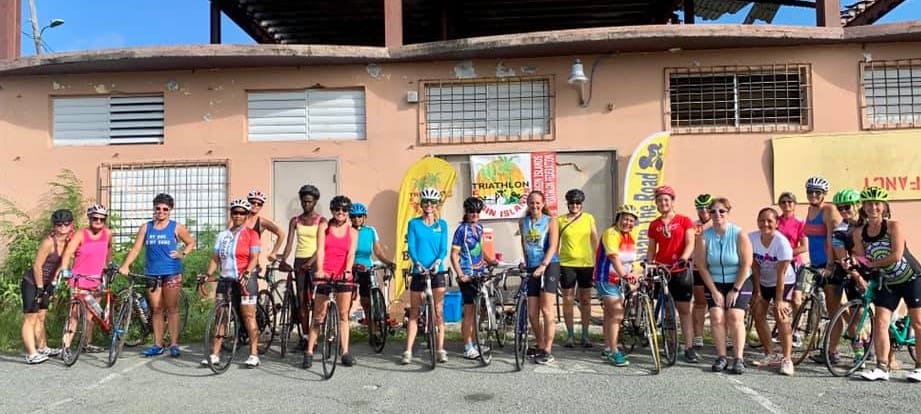 Upon receiving a grant from Women For Tri™ — a program of the IRONMAN Foundation — the Virgin Islands Triathlon Federation hosted the Bella Biker Clinic last week for female cyclists on St. Croix. With the commencement of triathlon season and the recent surge of women on bikes, Triathlon Federation secretary, Theresa Harper, felt the need to support and encourage 'Bella Bikers' in an informative way.
"Women For Tri is about transforming the impossible into the possible, so I wanted to attain that goal through group instruction in a fun way," said Harper. She had noticed a decline in female participation in cycling and triathlon events after the storms of 2017 and decided to plan a social yet helpful opportunity for women to reconnect and to gain confidence in riding and participating once again.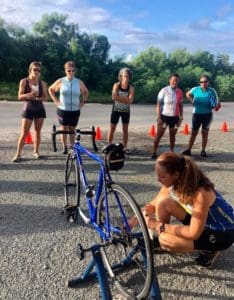 The women-only group gathered in the parking lot of a building on the South Shore Road, which was badly damaged by Hurricane Maria. To several of the attendees of the clinic, the crude setting represented the post-hurricane devastation each woman faced while trying to overcome the continued challenges of mixing athletics, work and home life.
The object of the clinic was to empower women of all abilities to maintain their own bicycles and to become better cyclists and triathletes through demonstrations of tire changing, gear shifting and simple maintenance. Harper, who jokes that she is an "expert fixer of flats." gave a step-by-step instruction to the group on how to change a flat tire on a bicycle and a demonstration on how to lubricate the chain. Sue Brown, one of the most experienced female cyclists in the V.I., shared how and when to shift gears efficiently.
After reviewing etiquette while riding in a group, more than 20 female cyclists took to the South Shore Road on mountain bikes, road bikes and triathlon bikes. The Bella Bikers broke into groups of riding abilities and distances, ranging from 4 miles to 12 miles. At the conclusion of the ride, the group continued with Harper's mission of building relationships at a special breakfast hosted by the V.I. Triathlon Federation.
For more information on becoming a triathlete in the Virgin Islands, call 513-2707.