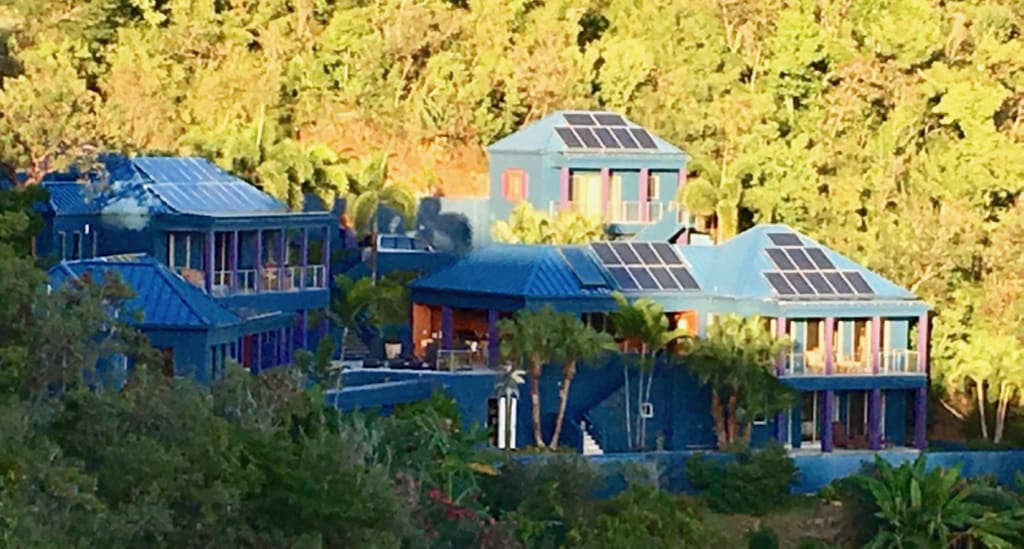 The V.I. Energy Office, Water and Power Authority and Public Services Commission have worked together to launch a new net-metering proposal, a successor to the original program, which Gov. Albert Bryan unveiled Monday.
The concept of net-metering is that customers who install solar panels or windmills can sell excess power to WAPA, then use WAPA power when the sun is not shining or the wind is not blowing. It can help promote alternative energy by offsetting the cost of setting it up. The U.S. Virgin Islands' high electricity rates and sub-tropical sunlight make solar more practical here than most stateside locations. And the cost of solar panels has been steadily dropping.
The new plan changes and updates the former net metering program, which reached its cap in the St. Thomas-St. John district in 2017. A law passed by the V.I. Legislature in 2009 capped the total amount of energy produced by net metering systems at 15 megawatts (15,000 kW), 10 of which were reserved for the St. Thomas-St. John grid, the other five for St. Croix.
When St. Thomas reached its cap, there were 961 net-metering participants.
St. Croix reached its smaller cap earlier.
WAPA insisted on the cap to the initial program for two reasons: One, the territory's two grids needed changes, including new and more substations, to safely take on the varying solar inputs. Another was financial. If net-metering customers get paid the same amount they pay WAPA, it ends up being a huge financial burden on all the ratepayers who don't do net metering.
To see why this is so, take the extreme case where all but one ratepayer participated in net metering, selling power to the grid all day and running off the grid at night. If they provided half their own power and sold as much to WAPA, everyone would have bills of zero. Some might even profit. Yet once the sun went down, WAPA would still have to fire up its generators to supply power. It would still have to buy and maintain generators and maintain the grid. It would still have to spend many tens of millions of dollars to buy fuel to run the generators.
In this most extreme scenario, the one household that can't afford to put up solar power would have to have WAPA bills of millions of dollars per month to keep the grid in place and power on at night.
While that example is extreme, it illustrates how net-metering at full-price has to be subsidized by the WAPA customers who cannot afford to participate themselves.
"It's just not fair to the ratepayers who can't do net-metering," WAPA spokesperson Jean Greaux said in a phone call to the Source Monday.
To offset this issue, the new proposal has several tiers of net-metering payment rates, all of which are less than the amount customers pay for electricity.
Under the proposed program, residents can sell distributed energy back into the power grid at a rate of 75 percent of WAPA's fuel surcharge, the hated Levelized Energy Adjustment Cost or LEAC. For example, at the current LEAC of 19.3 cents per kilowatt-hour, the excess generation credit for a consumer would be 14.5 cents per kilowatt-hour, according to Government House.
Participants would pay a monthly grid access charge based on the customer's system size and generation capacity.
– For systems of two to 5.9 kilowatts, the charge would be $20 per month.
– For systems of six to 8.9 kilowatts, the charge would be $35 per month.
– For systems of nine to 11.9 kilowatts, the charge would be $50 per month.
– Systems of 12 kilowatts and higher will require a supplemental review on a case-by-case basis.
Government House says that under the new proposal, customers will be allowed to offset the full amount of their billed usage during each monthly billing period. But customers' bills will only go down to zero. WAPA will not cut checks to customers whose credits are larger than their bills. The customer will have a bill of zero. And credits will reset every month, instead of adding up over time. Also, the unused excess energy credits cannot be used to offset the grid access charge.
The PSC will meet Oct. 3 to address the proposal, according to Government House. But the Legislature will also have to change the 2009 law, Greaux confirmed Monday.
According to V.I. Energy Office Director Kyle Fleming, the Energy Office is going to put in place a streamlined distributed generation permitting process to help the new plan along.
"The overall goal is to simplify and expedite the permitting process for applicants, organize and manage data and documentation for WAPA and the Department of Planning and Natural Resources, and provide the community with consistent and accurate information relative to the program," Fleming said.
The existing net-metering WAPA customers will continue as before and will not be moved to the new plan.