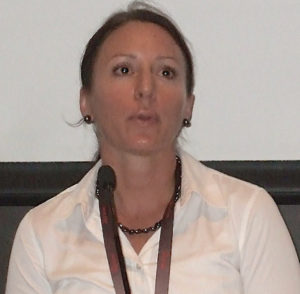 An extremely dangerous and mysterious respiratory disease that appears connected with vaping and e-cigarettes has shown up in the Virgin Islands.
U.S. health officials have been tracking the illness throughout the nation for several weeks. Last week there were reports from the Centers for Disease Control and the federal Food and Drug Administration that more than 200 cases have been confirmed as being caused by the illness and hundreds more are suspected. The yet-to-be-named illness, an acute lipoid pneumonia, was found in numerous states and in a U.S. territory.
On Monday, Dr. Esther Ellis, the Virgin Islands territorial epidemiologist, confirmed the territory is the Virgin Islands mentioned in the report. Because of privacy concerns, she could not say exactly how many cases local health officials have seen or give any details specific to any V.I. patient, but the numbers appear to be low.
Typical symptoms include cough, shortness of breath and chest pain, according to a press release from the V.I. Health Department. Some patients also experience nausea, vomiting or diarrhea, fatigue, fever and weight loss, with the gastrointestinal problems sometimes preceding the respiratory symptoms.
In severe cases, the disease can cause serious damage to the lungs. As of late last week, five deaths in the U.S. had been attributed to the illness.
U.S. health officials are still trying to determine the exact cause of the illness but have said it is not contagious.
All known cases have involved patients who have used some sort of vaping device or electronic cigarette within the previous 90 days. Some patients reported the use of nicotine alone; some said they had used it in conjunction with THC or other cannabis products. About 14 million people in the United States are considered regular vapers, about 35 million around the world, according to tobacco and cigarette company Altria Group.
Officials say the disease seems to be chemical-based, but so far they have been unable to pinpoint just what that chemical is or how it is being introduced to the vaping process and therefore into the body.
Federal, state and territorial officials are urging people to suspend the use of vaping devices, liquids, refill pods and cartridges until they learn the source of the disease.
In a multiple-agency effort Thursday, V.I. enforcement officers seized what they called "fake and questionable vape pods" from businesses on St. Thomas and St. Croix. Many convenience stores, gas stations and vape shops throughout the territory are licensed tobacco sellers.
"Operation Fake Green" was a joint action by the Division of Environmental Health, and the departments of Justice, Licensing and Consumer Affairs, and Planning and Natural Resources as well as the Taxi Commission.
According to a release announcing the action, the officers were searching for "counterfeit pods fitted for the popular Juul Vaping system" and they confiscated "4,500 plastic rectangles filled with questionable substances."
Ellis said the territory has been working with the FDA and will turn over suspect materials to it. The FDA has already tested more than 100 products, looking for an answer.
Ellis said she does not think the contamination is intentional, and noted that the counterfeit product is cheaper than a name brand.
According to the Health Department release, "it is suspected that most cases are the result of adulterated or contaminated products involving THC or other cannabinoids from marijuana. The cutting, flavoring, or solvents used in producing these products 'off the street,' without regulatory testing, are possible culprits."
While the cause of the illness remains unknown, medical personnel are somewhat limited in how to care for it.
"You treat the symptoms," Ellis said.
In severe cases, treatment can include hooking a patient up to an ECMO, she said.
That is a specialized machine that provides Extracorporeal Membrane Oxygenation, to help improve respiratory function. Descriptions of the machine on-line indicate it was originally designed to temporarily replace or supplement heart and/or lung functions in infants.
Not surprisingly, with its small population, the U.S. Virgin Islands does not have an ECMO.
As far as Ellis and a Health spokeswoman know, it does not have a full-time pulmonologist, or lung specialist either.
The Health Department is urging people who use e-cigarette products to seek medical assistance if they experience cough, shortness of breath, chest pain or other symptoms. They may also submit reports of any tobacco or e-cigarette related health issues to the FDA at https://www.safetyreporting.hhs.gov.
In addition to concerns over the newly emerged disease, Health advises that e-cigarette products should not be used by youth, pregnant women or individuals who do not currently use tobacco.