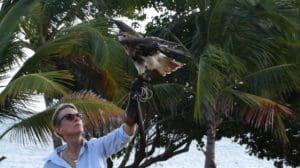 Friends of the St. Croix USVI National Parks will host Toni Lance who is the subject of "Under Her Wings," a film about her work with birds on St. Croix. The event will take place at 5:30 p.m., Thursday Sept. 12, at the Guinea Company Warehouse, Company Street, Christiansted.
"Under Her Wings" – a film by Elizabeth Herzfeldt-Kamprath with music by Jacqueline Schwab
Compassion can take you by surprise. Toni Lance came to St. Croix as a young artist, expecting to discover and express the beauty of the island. She could not have anticipated the heart connection with the island birds that was coming into her life, and how many she would take under her wing. This short documentary explores Toni's passion as an artist and her life as a caretaker for wild birds.
Stream the film: https://vimeo.com/elizabethjoyphotography/underherwings
Filmmaker website: https://www.elizabethjoyproductions.com/