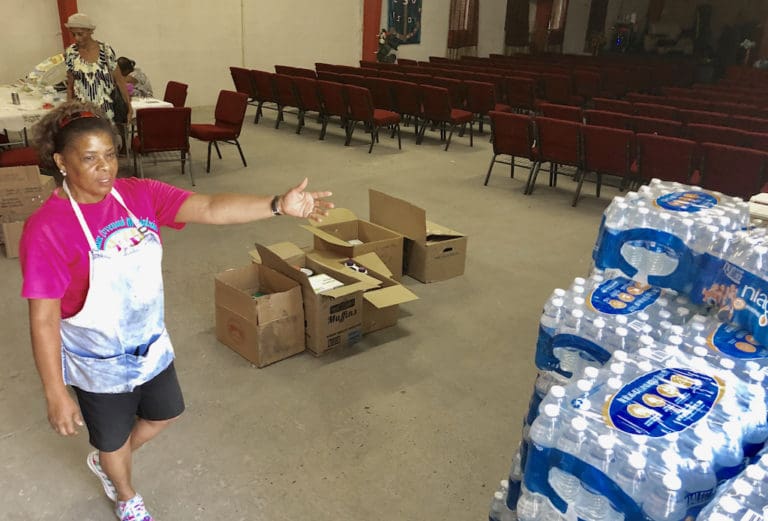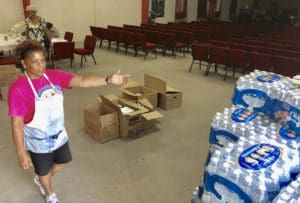 One week after Hurricane Dorian devastated islands in the Bahamas, volunteers on St. Thomas mobilized what they called a long-term relief drive. Organizers began their work on Friday at a church in Vitraco Mall near Mandela Circle.
Cases of water, sacks of rice and stacks of disposable diapers sat inside the glass doors of Paradise Covenant Ministries. A crew of 10 volunteers spent the day standing by to receive supplies.
Pastor O'Neil Taylor sat at a table in the back of the room. He said the ministry was ready to receive donated goods six days a week. Except for Sunday, when church services are held.
According to St. Thomas resident Bruce Flamon, volunteers who have worked in relief-drive teams before got a call as Dorian moved away from Marsh Point, Abaco and Grand Bahamas. Calls went out to Rotary East and community groups, Smith Bay Action Foundation and Red Hook Alliance.
Together, these groups have staged relief drives for Haiti and other parts of the region when disaster struck, he said.
"I believe we started making phone calls Tuesday for an emergency meeting. We met at Paradise Covenant Ministries to strategize how we were going to respond this time," Flamon said.
Responding to disasters is something the former Chicago firefighter says he's done for many years. During Hurricane Irma on St. Thomas two years ago, Flamon served as emergency shelter manager for those displaced by the storm.
As the roles reverse and another Caribbean island takes the brunt of a natural disaster, the job of a responder takes place at a distance, he said.
On Monday, members of the relief team plan to raise funds for disaster relief over AM-1000 on the morning talk show, starting at 9 a.m.
They are also reaching out to Carnival Cruise Lines, Rotary Club, Bahamas; a church on St. Croix and in the Bahamas to plan for transport and receipt of donated goods.
Response from the surrounding community was almost immediate as the donation center opened Friday at Vitraco Mall, Flamon said. Two local restaurants sent snacks for volunteers receiving and packing goods.
Individual donors brought items they had at hand.
Items donated so far include batteries, flashlights, first aid materials, non-perishable food, baby needs and feminine hygiene supplies.
Relief drive volunteers say they can't transport goods to the Bahamas until shipping lanes have been cleared of debris.
"Our plan is to keep bringing in supplies until we can fill up a 20-foot container; fill as many containers as possible for the long term recovery," Flamon said.
In 2010, after Haiti was struck by a massive earthquake, a similar technique was used by the St. Thomas team to send four trailers of relief supplies into the affected area.
Volunteers are still being sought to donate service hours at the church to receive donations as they arrive, Monday through Saturday.