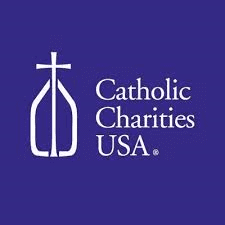 Great things happen when people come together as one. In this instance, Catholic Charities of the Virgin Islands (CCVI) and the V.I. Housing Finance Authority joined forces in a mission of hope to reduce homelessness in the territory. To wit, a new transitional housing complex at 16 Friedenstahl, Christiansted, aptly named Sr. Teresa of Calcutta House of Hope.
Its grand opening, set for 10 a.m., Thursday, Sept. 5, will bring government officials, including dignitaries from the Virgin Islands Finance Housing Authority (Authority) and Catholic Charities, donors and staff to the site to celebrate the auspicious occasion. There will be speeches, ribbon cutting, music and refreshments. The public is cordially invited to view the new three-story complex, which consists of 11-fully-furnished efficiency units, on the second and third levels. The main floor houses one ADA compliant efficiency unit, a soup kitchen that will feed up to 50 individuals daily, shower amenities for the homeless and staff offices that will serve as an intake and outreach center.
It can be said that the concept for a House of Hope began in 2008 when the land, 16 Friedenstahl, was donated to Catholic Charities by Rita Schuster. Indeed, great things continue to happen as Catholic Charities continues to solicit donations for the furnishings, including beds, stoves, refrigerators, et al. Some donations have been received from individuals and local businesses.
The building is completely financed by the Authority through a Community Development Block Grant. According to VI Housing Finance Authority Federal Programs Director Janine Hector, "The facility marks the culmination of more than a decade of hard work. It is the first large-scale investment in transitional housing on St. Croix, which will facilitate the movement of homeless individuals to permanent, affordable housing."
"We are grateful to have worked with VIHFA to build this facility where occupants can live with hope and dignity," said Catholic Charities Executive Director Andrea Shillingford. "This has been a very challenging project, but with the expert guidance and support of VIHFA staff, we are blessed to see its opening which will help to alleviate the serious housing crisis in the territory."
CCVI has been serving people in need in the Virgin Islands for more than 60 years by operating homeless shelters, soup kitchens, street outreach programs, health services for the homeless and summer camps for children with disabilities. Therefore, it is fitting that the new transitional housing facility be named in honor of Mother Teresa who dedicated her life to the service of the poor and who, since her canonization on Sept. 4, 2016, was given a new title: Sr. Teresa of Calcutta.
Tenants of Sr. Teresa of Calcutta House of Hope must be single men or women 18 and over, homeless or at risk of becoming homeless; employed or employable as there will be mandatory fees for maintenance and utilities. Applicants will be subject to mental health screening and medical evaluation. Those diagnosed with a mental illness must be on medication and actively involved in a mental health program. Indeed, it will be transitional, from homelessness to self-sustainable and stably sheltered.
Supportive services will include general case management, financial literacy, job readiness and job search, referral to mainstream services and home management, to name a few. Occupants will be allowed to remain 24 months in the facility to make the transition to self-sufficiency.
To be sure, great and wonderful things will continue to happen as Catholic Charities of the V.I. and the V.I. Housing Finance Authority continue their quest to implement projects that prevent/eliminate slums and blight and provide decent housing for low income Virgin Islanders. Their next project is a homeless shelter in Frederiksted: The Light of Christ Retreat Center.