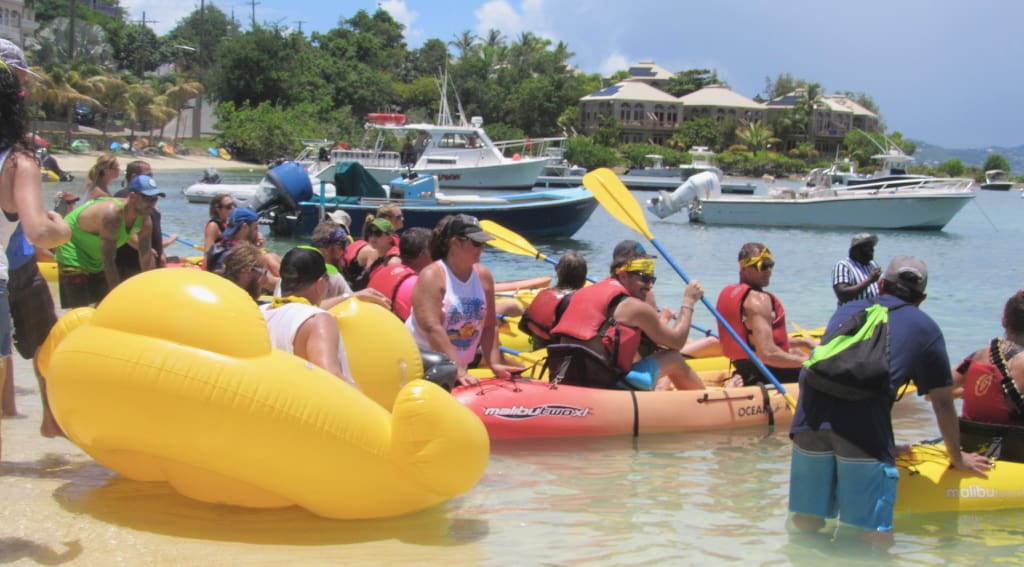 Teams of disabled vets, with staff from local businesses and some local children, filled the air with laughter and cheers as Team River Runner returned to St. John.
Spectators gathered under trees that rimmed the patio restaurants and open plazas of Wharfside Village to enjoy the soca beats of a deejay while a referee in a striped shirt waded waist-deep into the water between yellow kayaks lined up along the shore.
Founded in 2004, Team River Runner is an adaptive sports program that creates an opportunity for veterans who have suffered the wounds of war to take part, along with family members and everyone in the community. Organizers have been making annual sojourns to St. John for almost a decade, and Chaotic Kayak is a key part of their effort to help wounded veterans live with disabilities sustained while serving in the military. Sunday's event also gave them a chance to mingle with V.I. residents and share the fun.
During a break in the action, veteran Ryan Majors told the crowd how much St. John hospitality meant to him.
"I want to thank St. John for being so welcoming to all of us, letting us enjoy this beautiful island, these beautiful beaches and coming together to enjoy this beautiful event," Majors said.
The bright yellow kayaks and double-ended paddles with yellow tips set a colorful scene as small children armed themselves with super shooters, sending jets of spray into the air at other children and adults. Bystanders milled about in an arc at the waterline.
And the rubber duck drew plenty of attention. Big and yellow, wearing shades, the duck-shaped inner tube had a tow line and a portly passenger.
It was the task of Adam Dowe and the team from the Beach Bar to tow the duck behind their kayak. The team made it into the loser's round, but Dowe didn't mind.
"It was a darn good time," he said.
The sponsoring watersports shops, restaurants and bars didn't seem to mind either. As the racing results sorted winners and losers, teams could ask for extra donations to put them back into competition.
Felicia Lampkin, a non-active duty Marine, also seemed to have a good time in between races as she waded out in the water and bounded up and down in the sand with a big smile and raffle tickets in her hands. On her first trip to St. John for the event, Lampkin was in it for the money.
"We're raffling off some great prizes. It all goes to our Team River Runner project," she said. Her team included Arms and Legs Specialists, the energetic rowers who have lost one or both legs in conflicts overseas. Their energy was particularly appreciated by Dan Amb, a member of the Wharfside Watersports team. Sunday's event was his first turn on the paddles.
"It was a lot of fun. Hard work, but a lot of fun," Amb said.
Then Lampkin revealed a fact of life. She too is a wounded warrior. With her military career ended and her husband still in the armed forces, she now spends her time working as a volunteer on behalf of fellow service members.
Lampkin's commitment is one among many efforts for which Ryan Majors offered his gratitude.
"Team River Runner has done so much for me, getting through some pretty dark places in my life after my injury. Kayaking was the first adaptive sport I got into after my injury, and it really helped me regain my independence and confidence in myself, to be able to get out of the house and be out here with all you guys," he said.
The crowd sent up a cheer, and prompted to go get wetter, set off to climb back inside their yellow water vessels.
More information about the group is online at the Team River Runner website.