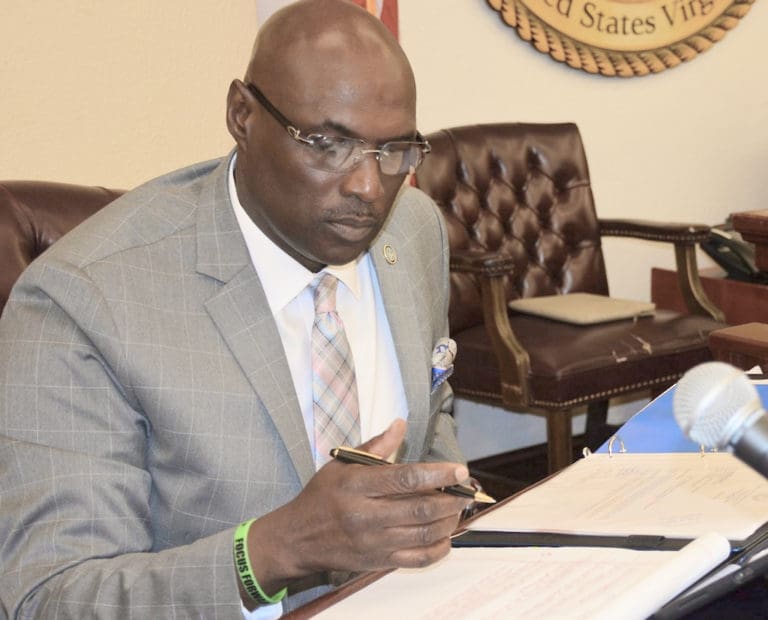 Four of Gov. Albert Bryan's nominations breezed through final legislative approval Monday.
Kimberley Causey-Gomez is now commissioner of the Department of Human Services; Col. Kodjo Knox-Limbacker is Adj. Gen. of the V.I. National Guard; Calvert White is commissioner of the Department of Sports, Parks and Recreation, and Raymond Williams is director of the USVI Lottery.
All 15 senators were present for the legislative session, and mostly, they just had praise for the nominees.
Along with their approval, the senators gave the new department heads some advice. Sen. Janelle Sarauw said, "After we cast our vote, it is important that you execute and do your job."
Sen. Marvin Blyden said that the agencies they were taking charge of had not been going well.
"I want you to be change agents," he told them.
Blyden had specific directions for White, stressing that the territory playgrounds needed repairs and some needed lights.
Sen Kurt Vialet pointed out that the V.I. National Guard response in the 2017 hurricanes was not what many saw as adequate. He told Knox-Limbacker that he expected the Guard to be better prepared the next time a hurricane hits.
Although there were few negative comments against the nominees, Vialet and Sen. Alicia Barnes did vote against approving Causey-Gomez.
Vialet said he was voting no because dates had been changed on contract documents submitted to the Senate from Human Services, and no one has owned up to it.
Barnes said she was voting no because she felt the answers from Causey-Gomez to the senators were condescending.
"Condescending is just as offensive to me as using the F word," she said.
Senators had mentioned that Williams swore at Lottery employees. Senate President Novelle Francis told Williams that swearing at employees opens the door for them to swear back at you.
Sen. Dwayne DeGraff and Sarauw voted against Williams. At the end of the meeting Williams thanked all the senators, even those who voted against him, he said because "At the end of the day, I know I have all your support."
Causey-Gomez said at the end of the meeting, "We have a lot of work ahead of us. I will not let you down."
Causey-Gomez previously served as assistant commissioner at Human Services under Chris Finch. She started her work in the Virgin Islands at Catholic Charities of the Virgin Islands. She began her career in the government of the Virgin Islands in 1995 as a social worker.
Knox-Limbacker has been serving on active duty for 25 years. He has served in Afghanistan and Bosnia.
After a brief career as a professional basketball player, White settled in Atlanta and started his career in recreation as a recreation specialist with the Atlanta Job Corps. In 2007, he returned home to the Virgin Islands and accepted his first job in the Parks and Recreation department as a recreation coordinator.
In 2015, he became assistant director in the department.
Williams has served as director of the Energy Office, on the Public Service Commission and the Board of Elections. He told senators he has been in public service for 45 years.
The legislative session is scheduled to reconvene at 10 a.m. Tuesday.