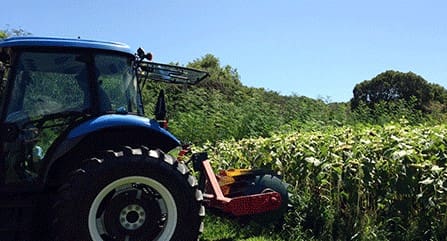 Joel Baxley, acting assistant to the secretary for rural development, recently announced the names of 47 rural communities and regions, including the U.S. Virgin Islands, that will receive technical assistance to help create and implement long-term economic development plans. The U.S. Department of Agriculture is providing the assistance through an initiative called Rural Economic Development Innovation (REDI). USDA's Innovation Center created the initiative to support recommendations identified in the report to the president from the Interagency Task Force on Agriculture and Rural Prosperity.
Each of the 47 communities and regions will be paired with one of four partner organizations that will provide free technical assistance for up to two years to help them create and implement economic development plans. USDA awarded $1.2 million in cooperative agreements to these partners in September 2018, which will help the partners finance the free technical assistance.
"USDA and its partners are bringing local leaders and economic development experts together to create opportunity in some of the nation's most economically challenged rural communities," Baxley said. "Under the leadership of President Trump and Agriculture Secretary Sonny Perdue, USDA is committed to building prosperity in America's rural cities and towns." CEDIK and Purdue University's Center for Regional Development will support eight communities and regions in the South and north central U.S. to help them build long-term economic development plans by leveraging public and private funding sources. CEDIK will work with regions in Kentucky, Florida, Alabama and the U.S. Virgin Islands.
The Virgin Islands Developmental Disabilities Council Inc. (VIDDC) grant submission was selected to participate in the program. It is a territory-wide not-for-profit corporation that serves the two island districts of St. Thomas/St. John/Water Island and St. Croix. The VIDDC plans to focus on the island of St. Croix and through its not-for-profit coalition, they initiative in December of 2018, will work closely with the University of Kentucky and the University of Phoenix and focus on identifying strategies to build the coalition to address the challenges students with developmental disabilities face at they can increase the probabilities to transition from school to employment, secondary education or other positive outcomes, according to Yvonne Petersen the Council's territorial executive director.
The Council and its partners will work closely with Alison Davis, CEDIK's executive director through the assistance CEDIK will provide will be a combination of virtual and face-to-face training and information for the Council and its coalition partners. "It will entail providing a fair amount of data access describing their current situation, walking them through strategic planning, trying to create formal partnerships and collaborations where they do not presently exist, helping them identify funding sources, as well as implementing something out of the plan that can get them moving in a forward trajectory," said Davis, who is a professor in the University of Kentucky Department of Agricultural Economics.