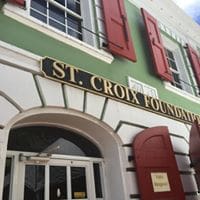 The Corporation of National and Community Service has awarded St. Croix Foundation a $340,157 grant by to assign 15 AmeriCorps VISTA volunteers to support eight St. Croix nonprofits beginning in September.
AmeriCorps VISTA (Volunteers in Service to America) is a national service program dedicated to "ending poverty by building the capacity of nonprofit organization and public agencies." In the aftermath of the 2017 superstorms Irma and Maria, St. Croix Foundation conducted a survey on the status of nonprofits that serve some of the territory's most vulnerable residents. The survey found that 70 percent of nonprofits reported an increase in demand for their services while 64 percent were operating on a limited basis or not at all due to loss of funding, facility damages and staff relocation.
In response, St. Croix Foundation identified the AmeriCorps VISTA project as a strategy to build organizational capacity for nonprofits and began the comprehensive, year-long application process. With the application approved, a VISTA Volunteer Team will support the following organizations: Caribbean Center for Boys and Girls VI, St. Croix Landmarks Society, Virgin Islands Good Food Coalition, St. Croix Montessori, Clean Sweep Frederiksted, St. Croix Long Term Recovery Group, and Virgin Islands State Historic Preservation Office and St. Croix Foundation. In total, St. Croix Foundation's VISTA Project expects to directly benefit youth, historic preservation, food security, greenspaces, and relief and recovery services.
1023 Market Street
Christiansted, St. Croix, VI
Phone 773-9898; Fax 773-8727
Email: [email protected]
www.stxfoundation.org
Contact: Deanna James, president
As the first AmeriCorps VISTA Team in the territory in over 20 years, St. Croix Foundation is actively seeking to contract 15 local volunteers ages 21 and up who are interested in supporting nonprofits in outreach and development. VISTAs will contribute to the goals of the project by performing activities such as community outreach, program development, grant research and website development. VISTA volunteers are expected to begin their full-time year of service on Sept. 3. Each volunteer will receive a monthly living allowance, healthcare benefits, official VISTA gear and professional development training.
Upon completing the first year of service, VISTAs are eligible to receive either the Segal AmeriCorps Education Award or VISTA end-of-service cash stipend and one year of non-competitive eligibility for employment in the federal government. Interested volunteers are encouraged to apply at https://my.americorps.gov/mp/login.do and search Virgin Islands. Applications should be received by Aug. 10, 2019.
President of the Foundation, Deanna James, said, "St. Croix Foundation is dedicated to creating a cultural, educational, skill-enhancing experience for VISTA volunteers as they support nonprofits in outreach and development of resources for our community. As an example of our holistic approach to community, we are pleased to provide targeted opportunities for local residents to support our critical nonprofits."
For more information about St. Croix AmeriCorps VISTA Team, how to apply to be a volunteer or how to support VISTA volunteers, contact St. Croix Foundation at 773-9898 to learn more.