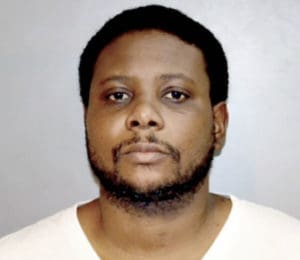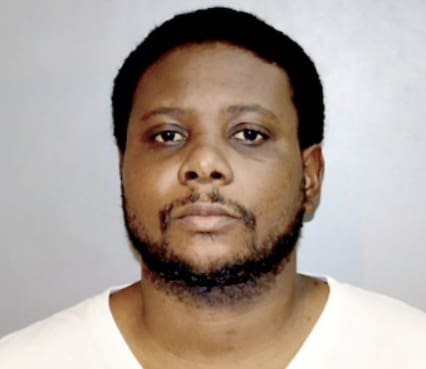 Francis Williams, the ex-police officer who was convicted of killing two fellow police officers almost three years ago, was sentenced Friday to 61 years in prison, Attorney General Denise George announced.
"Justice was served well today," AG George said. "My heart goes out to the children, family, close friends and fellow VIPD officers of the murder victims, VIPD Officer Kai Javois and VIPD Officer Lesha Lammy. I commend the teamwork of the Virgin Islands Police Department and the Virgin Islands Department of Justice to bring this defendant to justice from investigation through arrest, prosecution and conviction. Most importantly, this could not have been accomplished without the honorable persons in our community who did not stay silent, but came forward with information and as witnesses in this case, as well as the VIPD officers who dared to break the proverbial 'blue code of silence' and testified in order to see that justice is done. Justice is indeed a community effort."
At the end of a five-day trial in May, jurors returned a unanimous verdict, finding Williams, 41, of Estate Whim guilty of two counts each of second-degree murder, voluntary manslaughter, use of a firearm in the commission of a crime of violence and first-degree assault, and one count of stalking in connection with the Aug. 11, 2016, shooting deaths of Police Officer Lesha Lammy, 30, and Police Officer Kai Javois, 28.
On Friday, V.I. Superior Court Judge Harold Willocks sentenced Williams to 30 years for each of the killings, two concurrent ten-year penalties for the weapons conviction and a one-year consecutive term for the stalking.
"You will spend the rest of your life in jail," Willocks told the one-time police officer, now a convict, while handing down his punishment.
The prosecution team of Assistant Attorneys General Quincy McRae, Nadja Harrigan and Timothy Perry had recommended that Williams be given 200 years – 100 years for the life of Lesha Lammy and 100 years for Kai Javois. In his allocution at sentencing, AAG Perry highlighted the life and service of each of the victims, cut short by Williams' actions.
"Lesha was Williams' lover, his would-be wife, a woman he had spent Christmas with surrounded by her
children, Safia, Samara, Vivian, and he did all of this knowing she had three children," AAG Perry said. "They were ages 6, 11 and 12 when Francis Williams murdered Lesha Lammy and he did all of this, knowing she was a cop, a Virgin Islands Police Officer, who, despite the poor pay, the dangers inherent in every stop, the hard work in the day and in the night, every day put on a uniform and the badge of the Virgin Islands Police Department and worked – with humor and grace and strength – to protect the community."
AAG Perry then reminded those in the courtroom of Javois' service to his country.
"Kai left the island at 18 – a boy – to serve his country as a U.S. Marine, the most dangerous and bold and brave military service under the American flag," AAG Perry said. "He served with distinction a tour of duty in Iraq and a second tour of duty, with distinction, in Afghanistan. In the most dangerous places on earth, he fought for our freedom here. When he returned home to St. Croix, to friends and family, he sought to serve the community, so he joined the Virgin Islands Police Department. By all accounts, he was strong and kind, and fun-loving. I've heard again and again from men and women attached to this case that he was just so happy to be home, so happy to be a police. He didn't serve the VIPD for more than six months before defendant Williams shot him in the back of the head and burned his body … like trash."
Lammy and Javois were last seen on Aug. 10, 2016. Police launched a search for them the next day after family and friends reported that they tried contacting them and they were not answering their cell phones. The Virgin Islands Police Department was dispatched to the area of Ham's Bluff and upon arrival, saw two black individuals later identified as Lammy and Javois, lying on the ground with no vital signs. Both bodies bore multiple gunshot wounds – Lammy suffered three gunshot wounds to the neck and chest, and Javois' body was riddled with five bullet wounds to the head, hands, arm and abdomen, according to court documents.
At the crime scene, officers of the Virgin Islands Police Department Forensic Unit recovered and collected a spent casing for a .40 caliber weapon within approximately 12.6 feet from Javois' head. On August 12, 2016, a search warrant was executed at 49-A Estate Whim, 7-BB Estate Whim, 44-F Estate Whim and a 2004 Toyota Tacoma, black, four-door vehicle to search for the two victims' cell phones and service weapons. The result of that search yielded only Williams' .40-caliber 27 Glock pistol. Later that same day, Cpl. Carlton Wakefield, Williams' brother, advised police that he went into Williams' room and retrieved a .40 caliber .22 Glock semi-automatic pistol. A firearms test conducted on Aug. 14, 2016, revealed that the cartridge case collected from the Hans Bluff crime scene matched the Glock (Austria) Model 22, .40 S&W, semi-automatic pistol, bearing the serial number KLC862 – Williams' department-issued service revolver at the time.
During their investigations, police officers also interviewed several witnesses, including three police officers. One witness told police that Lammy and Williams were in a "back and forth" relationship and that Lammy broke off the relationship. The witness told police that Lammy called her one night and said that when she left her house to go out with her friends, Williams "was outside the house and, at some point, prevented her from going to meet her friends by snatching the keys out of the car." The witness told police that on Aug. 10, 2016, she received a phone call from Lammy indicating that Williams had come to her house and blocked Javois' vehicle to prevent Lammy and Javois from leaving. The witness said Lammy was heading to the police station to make a report. Video surveillance cameras showed that Lammy arrived at the police station at Rainbow Complex at 12:10 p.m. that day, but left without making a complaint, according to court records.
Another witness said that Lammy complained to her of Williams' "continuous harassment and stalking," and reported to the witness the harassment she was experiencing, according to an affidavit filed by Det. Frankie Ortiz in support of Williams' arrest.
Based on witnesses' statements and other evidence, police arrested Williams on 12 charges.