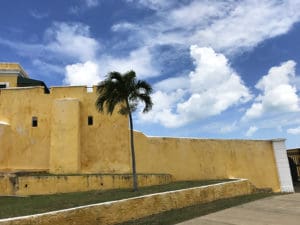 Beginning July 18, the National Park Service will begin the conservation of the several of the historic cannons at Fort Christiansvaern. The five 18-pounder cannons on exhibit at Fort Christiansvaern were cast at the Danish gun foundry in Laurvig, Norway, in the 18th century. These cannon types were used on warships and fortresses. Three of them date from 1784 and two from 1786.
They were carried to St. Croix in 1790 and used at Fort Christiansvaern for defense of the harbor. The average weight of the 18-pounder type cannon is approximately 4,800 pounds. In addition, three of the fort's smaller cannons will also be conserved. The six and eight-pounders located on the south bastion alongside interpretive waysides explain the history of the fort's defense.
These cannons were traditionally mounted on wooden naval-type carriages and were commonly used in garrison settings as they were deployed directly from naval vessels. The color scheme is dark green with painted black iron hardware, in keeping with their, and the rest of the park's, mid-1800s appearance.
The cannon "tubes" will receive professional metal conservation treatment by Tuckerbrook Conservation LLC. Over the next three weeks, the Tuckerbrook team will have the cannons removed from their carriages and positioned onto low work mounts resting on a protected work surface on the fort's water battery. The company will then begin the delicate removal of the old paints and coatings and eventually recoat the restored tubes with an engineered siloxane paint to reduce future corrosion.
During the cannon conservation work, some of areas within the fort will be off-access for purposes of public safety, including the water battery and parts of the north and south bastion. The National Park Service looks forward to watching the cannon conservation process and welcomes visitors to view the work from the positions behind the orange construction fencing on the bastions. Unfortunately, the water battery will be closed during cannon conservation.
The Christiansted National Historic Site is 67 years-old in 2019, and NPS hopes people have an opportunity to come and visit the St. Croix park to see some of the oldest Danish colonial period buildings that the National Park Service maintains for the public trust. www.nps.gov/CHRI