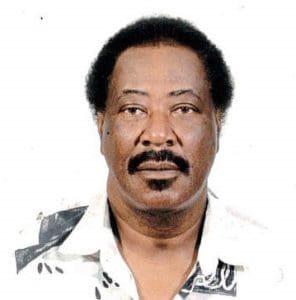 Wilbur Abramson, also known as "Big House" or "Lucky Hands," of Estate Sion Farm died on June 19. He was 73 years old.
He was preceded in death by his wife, Annabell Abramson; mother, Marie Christian; father, Bernadin Abramson; son, Ray Sherrington; aunts: Ena Francis, Una Ross, Etla Richards and Valerie Heyliger; and uncles: Henry Carter, Eric Christian and George Cornelius.
He is survived by his sons: Wilbur Abramson Jr., Wade Abramson, Dwyane Abramson and Glen Miranda Sr.; grandchildren: Latisha Abramson, Dominique Abramson, Ivor Davis, Cherise Davise, Shenisha Menders, Kaleem and Adowa Fleming, Glen Miranda Jr., Wendell, Jamal, Jeffrey Miranda, Keeisha Miranda, Tinesha Sherrington and Tayns Sherrington; great-grandchildren: Jariah Jean-Marie, A'kayra Fleming, L'Andre Mcintosh and Kaleem Fleming Jr., Jahniya, Jahliya and Kehnan Miranda.
; and niece, Michell Abramson.
He is also survive by nephews: Allan Abramson and Michael; daughters-in-law: Elizabeth Abramson, Janice Miranda and Cameka Perkins-Abramson; brother-in-law, Charles King; sisters-in-law: Marton Williams and Robin Lewis; and special friends: Charles and Shermaine-Caphart, Milton Henry "Moon," Bullet, Lobster Joyce, Alma, Arthur Joseph, Ralph, Joy, Victor, Everton Jackson "Goldteeth," Kevin King, the Young family, Gibbs, Mr. and Mrs. Williams, Jaclyn Williams and family, Beavor, Rodgers, Boops, Darwin, Ponce, Dwayne, Eunice Archibald, Mrs. Matthew, Chip, Bird, Darrian and many others too numerous to mention.
Other survivors include cousins and other relatives: Carliss Nathaniel-Denise Nurse, Doris Petersen, Christopher-Ross, the Lang family, Cornelius Wilson, Christian Carter, the Samuel family, Winston Phillips, the Newton family, Friedensthal Moravian Church, Tacker friends and customers; as well as other relatives and friends too numerous to mention.
The viewing will take place at 9 a.m. followed by the funeral service at 10 a.m., Tuesday, July 23, at the Friedensfeld Midland Moravian Church. Interment will be at Kingshill Cemetery.
Friday, July 19 (added day); Saturday, July 20 (added day); Sunday, July 21 and Monday, July 22.