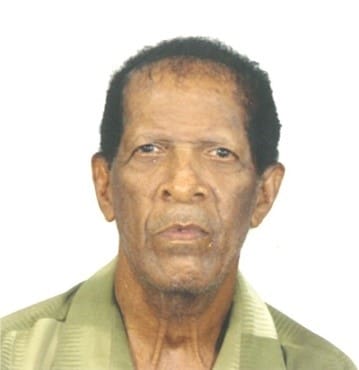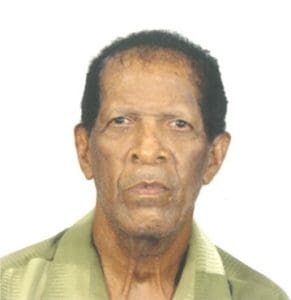 James Alfred of Estate Upper Love transitioned into eternal peace on July 2. He was 76 years old.
He was predeceased by his daughter, Deborah Garcia; brothers: Jn Baptiste Julian, Winston Earl Alfred and Augustus Quentin Alfred; sister, Rufina Williams; and niece, Shirley Julian.
He was survived by his wife, Mary Cecilia Alfred; son, Sonny "Tony" Alfred; daughter, Sonia Alfred; brothers: Lambert Alfred, Linus Alfred, Dexter Alfred, Murray Alfred, Bob Morris Alfred and Marcus Alfred; sisters: Clotilda Alfred, Lucy Hippolyte, Marilyn Alfred Faucher, Pearl Alfred, Janice Phillip, Natasha Alfred; grandchildren: Jasmine Alfred, Javonta Alfred, Kelly St. Brice, Beyla Brooks and Nasha Brooks; and nieces: Esther Alfred Kierce, Ruth Alfred, Patana Sonia Alfred, Suzette Petal Williams, Cindy Julian, Brenda Alfred, Dornalin Simon, Lucia Williams, Lister Williams, Mitchelle St. Louis, Mitchella Herelle, Nataski Alfred, Faith Alfred, Pearlita Alfred, Ciann Alfred, Jeannie Alfred, Britney Alfred and others too numerous to mention.
He is also survived by nephews: Jude Alfred, Jesse Alfred, Darius Vivi Alfred, Dajr Alfred, Dennis Julian, Allan Julian, Collin Julian, Linus Herelle, Simon Herelle, Brad Alfred, Brian Alfred, Clyde Simon, Garvey Faucher, Cheddie Faucher, Rufus Williams, Lucia Henderson, ,Cordi Alfred, Le Bron Alfed, Javid Theodore, Tarrick Alfred and others too numerous to mention; daughter-in-law, Debbie Alfred; sisters-in-law: Telca Alfred, Zepherine Alfred, Roseline Alfred, Elizabeth St. Priest, Charitina Alfred and Claudia Alfred; brothers-in-law: Auguste George, Methodius Faucher and Mattis Phillip; and cousins: Frederica Leonce and family, Eudoxia family, Henry family, Tony Alfred and family, and others too numerous to mention.
Other survivors include special friends: Chico Williams, Rudy Joseph, Jamie and Kirtney Mitchell, the Johnson family, the Mitchell family, Marcil Phillips, Mike Brandy and family, Jane and Maurel Felix, the Georges family, Ms. Patrick, the Middleton family, Ezekiel Brooks and family, the Faucher family, the Raymond family, Leticia Garcia and family, Felipe Concepcion, the Duval family, the Faucher family, Mr. Mends and family, the Julian family, St. Brices family, Mr. Nelson and family, The Miracle Revival Deliverance Tab Church members, Pastor and family, Calvery Baptist Pastor and Church members, and St. Ann's Catholic Church family; as well as other relatives and friends too numerous to mention.
The viewing will be held at 10 a.m. followed by a funeral service at 11 a.m., Friday, July 19, at Miracle Revival Deliverance Tabernacle viewing. Interment will be at Kingshill Cemetery.