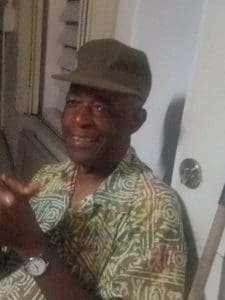 Delroy M. Thomas of Estate White Lady died on July 7. He was 75 years old.
He is survived by his wife, Glenice Williams-Thomas; daughter: Gale Thomas-Mckee; son, Erasmus (Angus) Jn. Baptiste Thomas; adopted children: Florine Cranston, Junior Warner (Lion) and Wayne Moving (Wadada); stepchildren: Dale Williams, Faith Williams-Singleton, Lloyd Wilson and Lynette Butureza; grandchildren: Trinell and Ebony Mckee, Jayson, Terence and Chinelle Jn. Baptiste Thomas; step-grandchildren and great-grandchildren: D'Lisa, D'shern, Dale and Diarra Williams, Le'Necia Brewster, Ruynard Singleton, Angela, Alaysia and Azarii Phillips, Ryan Caleb, J'nyah Barley, Carter Bryson and Brewster Howard; brothers: Fred Thomas and Dr. Norman Armstrong; sister, Ramona Rodgers-Faoye; mother-in-law, Inez Byron-Williams; and son-in-law, Gary Mckee.
He is also survived by daughters-in-law: Saran Jn. Baptiste Thomas and Shakiema Hutchinson-Williams; sisters-in-law: Theresa Hendrickson-Thomas, Sharon, Patrice, Denise Williams, Lisa Brown-Williams, Debbie Petersen and Geraine Armstrong; brothers-in-law: Lindel, Wayne, Raymond and Patrick Williams, and Burton Petersen; special nieces and nephews: Luis Thomas and family, Jada and Wendell Thomas Jr., Fred Thomas Jr., Adnil Clarke, Darius and Michelle George, Debra and Anna Thomas; godchildren: Ricky Hernandez, Dari Lee Barnes, Sophia Elcock, Juan Quinones Jr., Wendell Thomas Jr. and Oneal Morris; and special persons in his life during his illness: Rosie Mackay, Alvin M. Milligan, Stacey (Vicky) Williams, Sharon Williams, Kenneth Henderson Sr., Charles and Audrey Farrell.
More survivors are his adopted niece, Jennell Petersen and family; nieces and nephews too numerous to mention; other relatives: Dawn Rodgers, Lucy and Mickey Queeley, Maria Joy Thomas, Eugene (Genix) Thomas and Irma Thomas, Edwin Thomas family, Alphonso (Skippio) Thomas family, Sarah McBean family, Delores Edwards, Golda McBean-Morris family, Kathleen-Matarangas-King, Bradley and Patricia Christian, Eugene McBean, Belinda Elcock family, Emma Armstrong family, Lorraine Morris-Davila family, Gwendolyn Williams, Suzanne Williams, Marjorie Bramble, Maurice Greenidge family, Michael Williams Family, Luis Richards family, Donald Richards family, Regina Daniel, Jeanette Richards, Leona Williams, Agneta Bailey family, Reynard Williams family, Ecilma Christian family, Florabel Miller family, Glen Byron family, Zula Byron family, Christel Byron family, Arlene Hopkins family, Eleanor Sealey and Maria Daley (Betty Sally).
Other survivors include friends: Shadrach and Carol Gill, Jeff and Sherry Bergstron, Gregg Richer, Joe Straws, Roland and Pam Benjamin, Kenrick Henderson, Charles and Audrey Farrell, Michael Dubois, Mr. Holder, Melvin Armstrong, Robert and Josephine Roach, Kenneth Henderson Sr., Camille Clarke, Josephine B. Hector, Doris Brown family, Ione Brown family, Arthur (Sonny) and Denise Brown, Albert and Maria Schuster, Gerda Norfleet, Gilbert Hendricks, Hubert Acoy family, Dwight and Joyce Caines, Janest Schrader, Latoya Williams, Marva O'Neale, Marjorie Pierre, Lenore Elcock, Julio Petersen, Myrna Velasquez Family, Fedelina Belardo, Brian Christian, Jose Nieves family, Jolene Luke, Kathleen Cranston, Valerie Greenidge, Arita George, Donata James family, Carmen Gotay, Phyllis Blackman, Julienne (Roaring Lioness) Hansen.
Special acknowledgements: K-Mart West Kitchen and Cafeteria Staff, Michael Rey (Ocean View Café and Staff), Pastor Robert Wakefield and Holy Trinity Lutheran Church family, Dr. DelGiacco and Staff, Dr. Hobdy (St. Thomas), Shana Mitchell, Dr. Galiber, JFL ICU Staff, VICC Staff, Continuum Care, Lori Fangman, Carol Battnello, Chaplain Vilma Perez, as well as other relatives and friends too numerous to mention.
The viewing will take place at 9 a.m. followed by a funeral service at 10 a.m., Thursday, July 18, at Holy Trinity Lutheran Church. Interment will be at Frederiksted Cemetery.