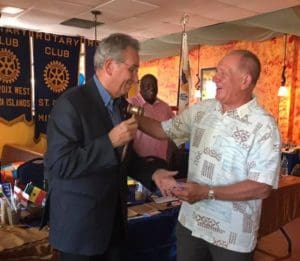 The four St. Croix Rotary Clubs joined together on Sunday, June 30, for a Joint Installation held at CHOP Restaurant. The clubs installed their presidents and boards of directors. New Assistant Governor Sweeny J. Toussaint Jr. was also installed. The Rotary year runs from July 1 to June 30.
Outgoing Assistant Governor David Beck reminisced about Rotary International President Barry Rasin's visit to St. Croix. Beck talked about how it was his mission to develop leaders in the St. Croix clubs. Incoming Assistant Governor Sweeny Toussaint stressed the need to maintain and grow membership. He also charged members to live up to the Rotary Four Way Test that they recite at every meeting:
As Rotarians, of the things we think, say or do:
· Is it the truth?
· Is it fair to all concerned?
· Will it build goodwill and better friendships?
· Will it be beneficial to all concerned?
Each outgoing and incoming president gave brief remarks about what the clubs accomplished during the past year and their objectives for the upcoming year. For the incoming presidents, their projects will be based on Rotary International's Six Areas of Focus:
· Peace and conflict prevention/resolution
· Disease prevention and treatment
· Water and sanitation
· Maternal and child health
· Basic education and literacy
· Economic and community development
The new presidents for the clubs are: Rotary Club of St. Croix — Jewel Cumberbatch; Rotary Club of St. Croix West — John Abramson Jr.; Rotary Club of St. Croix MidIsle — Bradley Ebersole; and Rotary Club of St. Croix Harborside — Lionel Downer.
There are videos from the event for everyone to watch on the Rotary Club of St. Croix Facebook page.