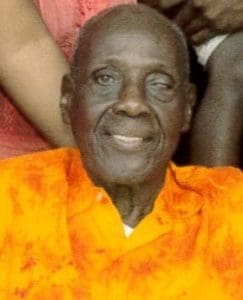 Samuel Morris Jr., also known as "Sammy," of Estate Whim died on Saturday, June 22.
He is survived by his daughters: Sonja Rivera-Rembert, Dolores Rivera-Lang, Patricia Rivera, Emma Armstrong, Jeanette Davila, Magnolia O'Reilly, Lavern James and Yvette Gordon; sons: Milton Petersen and Hugh Petersen; and grandchildren: Venique Petersen-Jones, Duane Petersen, Nichelle L. and Kafi C. Armstrong, Akeem Ferdinand, Tiffany Lang, Rahman, Rashawna, Muslimah and O'dingo Davila, Mahal, Makima, Makila and Makia O'Reilly, Shannon Payne, Reasha Bruce, Shamoy James, Hector Gordon Jr., Cleorinda Gordon-Clarke, Jenella Gordon and Shayna Gordon-Felix.
He is also survived by great-grandchildren: Venecia and Venita Jones, Duane Petersen Jr., Jelani Cherubin, Kelis Woodley, Amari Ferdinand, Devahn Davila, Rashad Williams, Emani and Maliah O'Reilly, Tainyah and TaeJah Green, Makai and Masai Taylor, Shatiffa Lettsome, Shailoh Wallace, Kahleem and Kalani Richards, Rahiem, Rahniyah, Mahsiah and Nahzir Gordon, Isabella Fong, Alleem and Lelia Felix; brother, Roosevelt Morris; nieces: Dolores Clendinen, Lorraine Nanton and Wanda Morris; and nephews: Dean Hodge, Keith Simmonds and Herbert Hodge.
daughters-in-law: Emma- Jean Petersen and Josephine Higgins; sons-in-law: Wilbert K. O'Reilly, Hector Gordon Sr., Grenville James, Herbert Rembert, Rueben Lang, Lester Ferdinand and Ulysses Davila; special friends: Delroy Henry, David Joseph, Humberto and Lilliana O'neal, Betty Wilson, Maude Roberts, Lorne Dawson, Calvin Perkins Jr., David W. Mapp, Renaldo Bess and American Legion Post 133; as well as cousins and other relatives: Gloria Gordon and family, Dr. Norman A. Armstrong and family, the Bruce family, the O'Reilly family and Anthony K. Mills.
A viewing will take place at 9 a.m. followed by the funeral service at 10 a.m., Friday, July 5, at St. Paul's Episcopal Church. Interment will be at Frederiksted Cemetery.