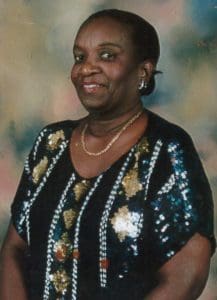 Claudia Marie Urgent of Hannah's Rest, Frederiksted, died on June 16, in Edison, New Jersey.
She is survived by her daughter, Sherleen James-Jones; son, Oneal Doward Sr.; grandchildren: Jay and Jahcore Jones, Shayna and Brianna Jones, Oneal Jr., Jason and Deshaunn Doward,; great-grandchildren: Jacob and Jaden Doward; brother, Vincent Urgent Sr.; aunts: Anna Joseph Johannes and Anna J. Lindo; uncle, Leon Casey Sr.; nieces: Josephine Wittshire, Debra, Magda, Dawn, Margaret Bruce, Caroline, Marsha, Patsy and Louise Urgent-Henry; and nephews: Raymond and Edward Stevens, Clere, Dennis, Jamal, Kimo, Ricky and Melvin Urgent Jr., Joseph "Fetha," Wayne "Malo," Samuel "Malik" Bruce.
She is also survived by daughter-in-law, Ester Urgent; great nieces: Malikisha Brown, Khalilah, Jhasiim, Oprah Wiltshire, Camisha Lynch, Omara Vasquez, Takisha Allick, Marisela Soto, Twana Augustin, Gizell Barthlett, Angela Thomas, Thamoiyah Luther, Louise Urgent-Henry, Jasmine Urgent-Francis, Kiasha, Zaya, Nautica, Matia, LaToya, Sherica Urgent, Nandii McIntosh, Cyd, Rashawn, Monique Steve, Shenique, Kadisha, Reisha, JahNyra, JahIlet, Irea, Halima, Danica Bruce and Sasha Greene.
More survivors are great nephews: Linton Wiltshire Jr., Omar Vasquez, Angel Carrion, Tasheem blake, K'Nandii Philipot, Cheikh Hunt, Ramses, Somali, Shanaii, Theovald, Maliko, JahAmon, JahZion Bruce, Clyde, Alik, Ray, Rayvon Stevens, Shaquille, D'Quan, Jaedin, David Urgent, Malik and Marcus Henry, and Amani Alfred; 40 great-great nephews; and 25 great-great nieces.
Other survivors include family and friends: Cornelius, Johannes, Joseph, Mason, Rissing, Drummond, Goodridge, Samuel, Gordon, Ruby, Josie, Kim, and Anthony "Scrooge" Urgent, Pam, Lynn, Kim, Diane Henderson and family, Joyce Schuster and family, Beverly Nesbitt and family, Aurelia Richards and family, Betty Lynch and family, Sylvia Gibbs and family, Cyprian Vicars, Carol George and family, Adams Samily, Eleanor Johannes Gomes, Paulette Hodge and Family, Iris James and family, Juliette James and family, Michelle La Coss and family, Lerlene Arindell and family, Susan Stevens and family; godchildren: Dr. Kimarie Engerman and Ray Edwards; as well as many other relatives and friends too numerous to mention.
The viewing will be held at 9:30 a.m. followed by the funeral service at 10:30 a.m., Monday, July 1, at St. Patrick's Catholic Church. Interment will be at Frederiksted Cemetery.