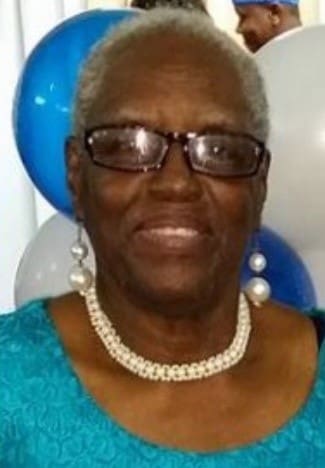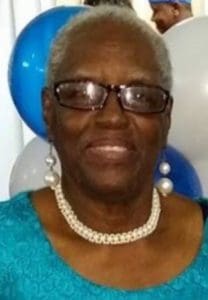 Estelita Viola Clarke Ferdinand Goodridge of Jealousy Ridge died on June 2. She was 86 years old.
She was preceded in death by her husband, Ivan S. Goodridge; parents: Agatha Emmanuel and Charles Jabez Clarke; son: Roland A. Ferdinand; sister, Ruth Hurd; and son-in-law, Gregory "Big Youth" Davis.
She is survived by her daughters: Renee S. Ferdinand, Rita D. Ferdinand-Dawson, Estelita "Estelle" V. Davis and Janice Goodridge-Forde; sons: Roy Ferdinand, Michael A. Ferdinand Sr. and Ivan S. Goodridge Jr.; adopted sons: Tony Elliott, James Meyers and Warren Potter; and grandchildren: Renecia Benjamin, Rhonda Benjami, Morris Benjamin Jr., Keisha and Kianna Stapelton, Tyanne, Akeem, Lovlina, Natasha and Nieyma,Davis, Shamall Turnbull, Ellerie Dawson, Kaleed, Michael Jr., and Kimoi Ferdinand, Shawna "Sapphire" Stringfellow, Rolanda James, Shameka Ferdinand, Raymond "Akeyto" Ferdinand-Davis, Cathriella Mattew, Chandy Jeremiah, Chaundrice Pedro and Terri Forde Jr.
She is also survived by great-grandchildren too numerous to mention; sisters: Lillian Potter, Agnes Payne and Laurissa Prince; brother, Alphonso Clarke; nieces: Priscilla, Debra, Lydia and Olivia Potter, Sonia Meyers and Laverne Francis; nephews: Warren Potter, Christopher Clarke, Knud Knight, Jr. and David Clarke; great nieces and great nephews too numerous to mention; daughters-in-law: Kim Monsanto, Sharifa Ferdinand-Daniel and Aziyza Shabazz; sons-in-law: Eldred Dawson and Terry B. Forde Sr.; brothers-in-law: Ignatius Goodridge and George Goodridge; sisters-in-law: Inez Hinds and Theresa Goodridge; and godchildren: Peter and Pearl Parrilla, and Cherisse Hendrickson,
Other survivors include special friends: Dr. Yvonne Williams, Violet Conners, Class of 1953, Marvin Barton, Claudette Schrader, Florissa James, Wrigbie Archibald and family, Rev. Arner Boissiere and family, Tabernacle of Praise, Tracey Bradshaw, Leon Smith, St. Croix GERS Staff, Rhea Pickering and family, Natalie Moorehead, Doris Brown, Mariet James and family, Edna Derricks and family, Louis Niles, Bates family, Sion Farm family, Luz James and family, Jackie Hurley, Malik Barker, Fahie family, St. Luke AME Church family, Leon Jarvis and family, Catherine Jarvis and family, Maude Johnson and family; cousins and other relatives: Bolling, Emanuel, Gerard, James, Shou, Saraw, Clarke, Watley, Claxton, Cleoda Moorehead, Meyers, Brookes, Colbert, Edwards, Christian and other families too numerous to mention.
Funeral service will be held at 9 a.m. followed by a service at 10 a.m., Tuesday, July 2, at the St. Luke AME Church. Interment will be at Kingshill Cemetery.