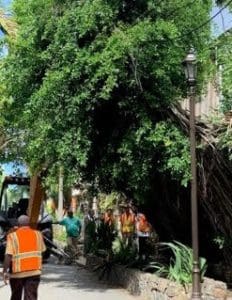 In his efforts to promote public safety, St. Croix Administrator Sammuel Sanes has had the falling tree on Strand Street, next to 40 Strand Eatery, removed to eliminate any risk to pedestrians in Downtown Christiansted. Over time, the tree has been tearing away from the wall foundation behind it, and its continued growth and large branches posed a credible threat to residents in the area. The tree also had become entwined in cables belonging to the V.I. Water and Power Authority as well as cables owned by Viya. "The tree posed a risk to those walking below," the Sanes said. "It could have given way at any point in time."
During a series of meetings, Administrator Sanes enlisted the expertise of the Public Works Department and worked with WAPA and Viya to come up with a plan to remove the tree with the least impact on the thriving downtown area.
On Thursday, June 13, Public Works crews and the Army Corp of Engineers collaborated to take the hazard down.
Throughout the process of planning and ultimately removing the tree, Sanes kept in constant contact with downtown merchants and businesses to keep them up to date on the situation and to reassure them that public safety was a priority.
Anyone who sees or knows of similar situations that could pose a threat to residents' safety can call the St. Croix Administrator's Office at 773-1404, ext. 4802; the St. Thomas-Water Island Administrator's Office at 774-0001, ext. 4350; or the St. John Administrator's Office at 776-6484.