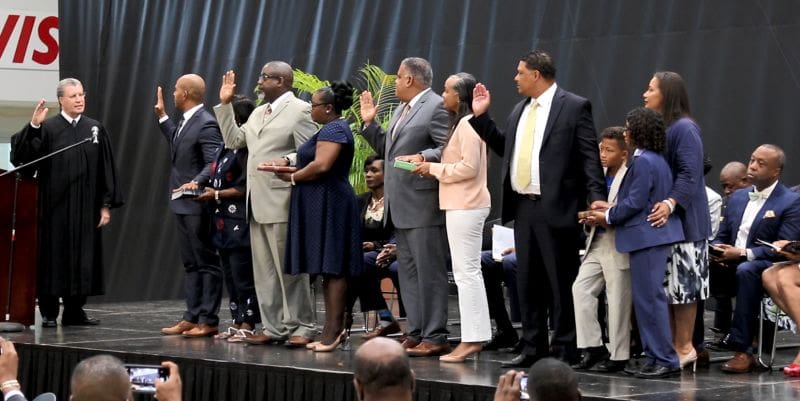 The first wave of swearing-in ceremonies for the governor's new cabinet gave officials the chance to highlight the importance of collaborating and having each department working together, and not against each other, for the best interest of the territory.
Monday's ceremony was held at the University of the Virgin Islands Sports and Fitness Center on St. Thomas, bringing together the heads of 12 different departments and agencies to take their official oath of office, with Chief Justice of the V.I. Supreme Court Rhys S. Hodge presiding. Each cabinet member also received a pin featuring the state bird, flag and flower to symbolize the resilience of the territory's people, the islands' rich history and above all, Virgin Islands pride.
"It is meant to keep the Virgin Islands close to one's heart as the territory charts a more progressive path on the world stage," mistress of ceremonies Shayla Solomon said.
But that path forward, isn't going to be easy, according to Lt. Gov. Tregenza Roach and Gov. Albert Bryan, Jr., who set the tone for the morning's ceremony by each speaking about the need to work as one government and one team to meet the challenges and opportunities ahead with renewed ingenuity, innovation and hard work.
Speaking about recent visits to neighboring islands, Roach observed how government officials are treated with dignity and respect. To achieve the same at home, Roach challenged each new cabinet member to be a leader in restoring and upgrading "the dignity, respect and regard of these public offices," by setting the bar high and leading by example.
"We have to conduct ourselves in such a way that we deserve the dignity and respect of each and every person in this community," he added.
Working through problems together is another important part of the process, Roach said. Any one problem belongs to "all of us," and only in continuing to collaborate can the territory move forward.
Surveying his new cabinet after the official swearing-in, Bryan also charged each new member with being an agent of change.
"You were selected because you were the group of people that I felt, and that my team felt, could bring change to the Virgin Islands," he said. "It's not easy, change, and it is a difficult road to travel but I know from the resumes I've seen that all of you are great managers."
But, there's a difference between management and leadership, Bryan added.
"You see, you were charged today to be the where 'the buck stops' for Education, the Department of Justice, and so on. Whatever your department may be, you are the last man on the line between the people of the Virgin Islands and all the perils that come our way, along with the opportunities. So, you not only have to be a manager for your office, you also have to be a leader – a leader of your staff, and a leader of the people," the governor said.
"Because it is the people who will look to you for answers when things aren't going well, when the winds are blowing in a hurricane or streets are flooded with sewage. So, as we go along, we have to know that these are your charges, and I beg you to do what I have strived to do my entire life: to lead by example, and not by privilege. You be the one to pick up that piece of paper, you be the one to mop that floor, you show your employees that there is no job below or above you in your leadership," the governor said.
Swearing-in ceremonies are scheduled to continue on St. Croix Tuesday.
Officially sworn in Monday were:
– Kirk Callwood, Finance commissioner.
– Denise George, Attorney General.
– Jenifer O'Neal, director of the Department of Management and Budget.
– Racquel Berry-Benjamin, Education commissioner.
– Nelson Petty, Jr., Public Works commissioner.
– Anthony D. Thomas, Property and Procurement commissioner.
– Joseph Boschulte, Tourism commissioner.
– Jean-Pierre Oriol, Planning and Natural Resources commissioner.
– Dayna Clendinen, Personnel director.
– Darryl George, Fire Services director.
– Wynnie Testamark, Bureau of Corrections director.
– Patrick Farrell, Office of Veterans Affairs director.
Each new cabinet member at Monday's ceremony thanked their families and staff, and pledged to serve the territory with integrity and transparency.
"We can all do this together, we all want our territory to be great and we are looking forward to making this the change we were all looking for as part of this administration," Oriol said.