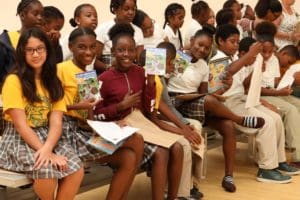 Gov. Albert Bryan Jr. shared his love of reading and introduced Alexander Henderson Elementary students to his favorite book at the St. Croix launch of the 11th Annual Governor's Summer Reading Challenge held June 11 at the Arthur A. Richards Jr. High School gymnasium.
The kickoff event, coordinated by the Virgin Islands Department of Education's State Office of Curriculum and Instruction and the Office of Public Relations, takes place each year to motivate students in grades K-6 to read five or more books during the summer months.
Bryan opened his remarks by singing the popular children's song, "Daddy Shark" — a fitting tribute to the Henderson Elementary Sharks mascot and much to the delight of the K-3 students assembled for the activity.
"I love reading [books in their traditional form], but I love reading them electronically, too," Bryan said. "I have 1,260 books in my electronic library…I like to read."
The governor revealed his favorite book as "The Lesson Box," a title in this year's Challenge that was written by Lt. Gov. Roach. Bryan pointed out that the book received an award from the Organization of Eastern Caribbean States and is considered a must-read for children in the Caribbean.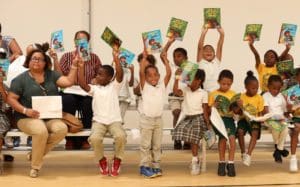 Education Commissioner-designee Racquel Berry-Benjamin, St. Croix Insular Superintendent Carlos McGregor, three-time Reading Challenge author Rick Grant, and Board of Education member Terrance Joseph kept the momentum going by sharing motivational messages on literacy.
Berry-Benjamin encouraged students to read both traditional and electronic books.
"You have the internet, so I want to challenge you to read more than the books you're receiving here today," she said. "Go above and beyond and find a book, any book and share with your friends."
Department of Education Program Assistant Denise Gomes also helped students get excited about this year's Challenge by reminding them of the reward for participating.
"Who wants to go to the party," she said. "I want to see all of your faces at the party. I want to invite you all this year, but in order to be invited, you have to read five books!"
Grant's book, "Health and Safety for You and Me," identifies ways students can be safe while doing things they enjoy.
"Over the summer when you're reading the book with your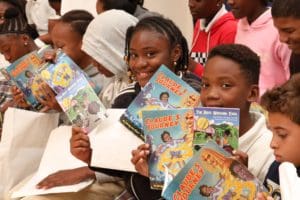 parents and your friends, I want you to ask them more questions on how else you can be safe around school and around the house," he said, adding, "And please make sure you have a safe summer. We want all of you to come back in the new school year."
At the end of the pep rally, students received book packets containing up to two books to get them started on their summer reading.
The Governor's Summer Reading Challenge will run June 3 to Sept. 20 and is open to public and private school students in grades K-6. It is designed to combat students losing critical literacy skills during the summer months. Books provided to students from the Office of the Governor and the Department of Education are written and illustrated by Virgin Islanders or persons from other Caribbean islands.
The Reading Challenge will launch in the St. Thomas-St. John District on June 19 at Yvonne Milliner Bowsky Elementary School.
For more information on the 2019 Governor's Summer Reading Challenge, visit www.readfive.org.