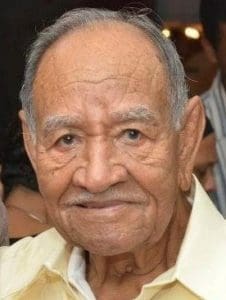 The family of the late Fritz Phillip Tutein, also known to many as "Pa-Wolf," died on June 6 with his caregivers, sons, daughters and close relatives by his side.
He is survived by his daughters: Sharon Tutein-Elien, RayelleTutein, Lillian Jacobs (stepdaughter), Diane Tutein, Audrey Tutein, Loretta Fedee (stepdaughter), Michelin Baptiste and Evelyn Wilkinson; sons: Preston Tutein, John Tutein, Wayne Tutein, Fritz Tutein Jr., Adrian Tutein, William Tutein and Fritzroy Tutein; daughters-in-law: Wilma Tutein, Kendal Tutein, Sydney Tutein, Crystal Tutein and Maria Tutein; sons-in law: Trevor Elien, Marcus Baptiste and Randall Wilkinson.
He is also survived by 57 grandchildren; 64 great-grandchildren; 9 great-great grandchildren; numerous nieces, nephews and cousins; special friend, Vera Falu; and special niece, Brenda Henderson.
The family gives special recognition to his caregivers: Veronique Fedee, Carmen Estrada, Sherleen Illidge and Tiesha M. Ballentine. In addition, special recognition is given to nieces: Audra and Monique Wenner; nephew, Andreas Tutein; and very special and dear friend, Camille Derby Macedon, who visited or called to check on the late Mr. Tutein often.
Relatives and friends are invited to attend his viewing from 5-7 p.m., Thursday, June 20, at James Memorial Funeral Home located at 4040 La Grande Princesse, Suite 9.
The second viewing will take place at 9 a.m. followed by the funeral service at 10 a.m., Friday, June 21, at the Lord God of Sabaoth Lutheran Church located at 45 King Street, Christiansted, St. Croix. Interment will be at Kingshill Cemetery.
For those who were honored to be touched by the life of Fritz P. Tutein, we pray that your grief be lightened during this difficult time with memories of a fulfilled and blessed life that he shared with all.