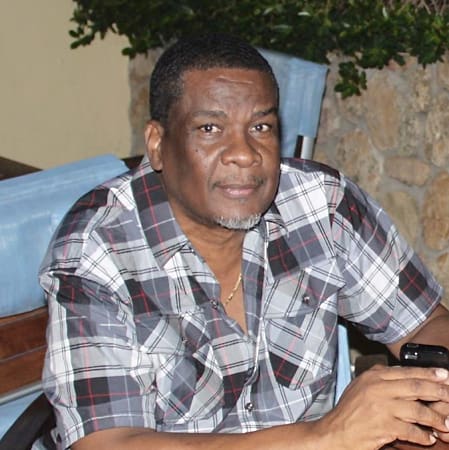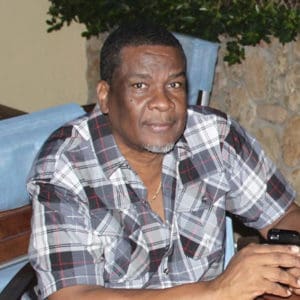 The Senate's Culture, Historic Preservation and Agriculture Committee on Friday had senators and testifiers singing. Most V.I. Senate hearings plod along with debates and conflicts, but Friday as senators recognized two island musicians, an educator, and a religious leader, everything was harmony and praise.
The singing erupted in the first order of business – passing resolutions recognizing Alwyn "Big Al" Baptiste and his son, Alwyn "Daddy Jones" Baptiste Jr., for their "outstanding contributions to the music industry and to the Virgin Islands community."
Sen. Donna A. Frett-Gregory sang the longest of any of the senators with a few verses of one of the senior Baptiste's hits. Then she voted in support of both resolutions along with with other committee members attending – Sens. Javan James, Steersman Hodge, Myron Jackson, Oakland Benta and Novelle Francis, Jr.
The longest musical contribution of the morning came from Bernard Cliburn, who sang in the Senate Chambers on St. Thomas. That chamber had a video feed to St. Croix where Sen. Myron Jackson was chairing the hearing. The song he sang, which Frett-Gregory later performed a few verses from, was the "Great Barney Jam." The song was a hit in the islands forty years ago and was the song Cliburn said brought him together with "Big Al."
"Big Al" toured and recorded more than 12 albums with XPress Band, which he had joined in 1981. He owned and operated Backyard Recording Studio, and along with his brother, Dean "Mean Dean" Baptiste, created an internet station called Press Radio which offered a variety of musical programs.
He died in February 2016 at the age of 62.
Born in Antigua, he migrated with an older brother to St. Croix and graduated from St. Joseph Catholic High School in 1972. He worked at Hovensa while developing his career in music.
Among those testifying in favor of the honor were his brother and his grandson Alwyn A. Baptiste III of St. Croix.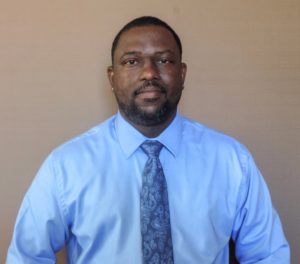 They were present as the committee also forwarded a resolution to the Rules and Judiciary Committee honoring another family member, Alwyn "Daddy Jones" Baptiste Jr. His career started in 1987 as a member of the Generation Band, where he played the keyboard. He left the Generation Band around 1990 to join the Violators Band. His time with the Violators Band was a turning point in his career because his responsibilities grew as an arranger, producer, and songwriter. His musical career reached an even higher level in 1997 with the formation of V.I.O. International Band.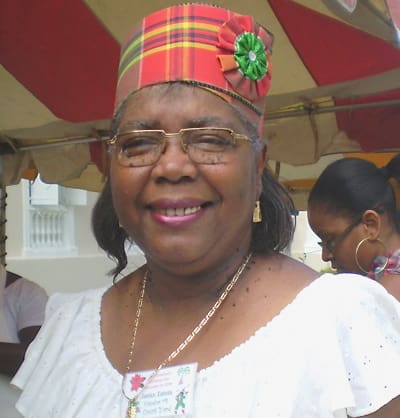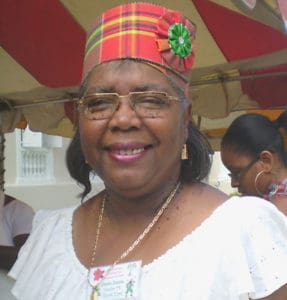 After dealing with the resolutions for the father and son musicians, the senators moved forward a resolution commending Janice Pemberton Tutein for "her tireless years" of educating youth and her work as a storyteller and culture bearer and, once again, the Senate chamber was blessed with singing.
While Violet Harrigan Connor was testifying about the good work Tutein had done in the schools, she mentioned that Tutein has written a song, "This Island is Your Island, This Island is My Island" set to the melody of Woody Guthrie's "This Land is Your Land." Sen. Javan James said he had not heard "This Island" song and asked Connor to sing it. She complied.
Tutein taught for 32 years, starting at Juanita Gardine School and continuing at the Pearl B. Larsen School.
"She was truly a teacher who treated her students as if they were her children. In fact, she was a teacher who made learning fun, using games and music, such as playing marbles and jacks and singing directional songs. … (She was) a teacher who worked on the physical, social, mental, emotional, and spiritual development of her students. A teacher who laid the educational foundation in her students lives," said James, who had been a student of hers.
Tutein passed away in January of this year. Jackson said an effort had been made to get a resolution honoring her through last year.
Connor recommended the bill be amended so the store on the Agricultural Fair Grounds be named "Auntie Janice Li'l Shop" and the Homestead House on the Agricultural Fair Grounds be named "Auntie Janice Homestead." The committee adopted the amendments before moving the resolution forward.
Senators also moved forward a resolution commending Thelma Ruby Schade Youngblood for her service and contributions to the Lutheran Church of the Virgin Islands and the Virgin Islands community.
In 2006 Schade was named the pastor of Kingshill Lutheran Church on St. Croix, and was the first female ordained pastor in the Lutheran Church of the Virgin Islands.
Rev. Idalia Negrón Caamaño, bishop of the Caribbean Synod, testified about Youngblood, "She had been an inspiration for many generations, as the first black American Lutheran Deaconess that worked with little children, youth and adults in programs for the church and the community…. She has been a blessing for our Evangelical Lutheran Church in America and for all of us in the Caribbean Synod."
All four resolutions passed through the committee without a dissenting vote.