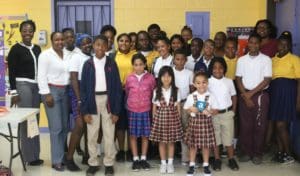 The V.I. Department of Education's St. Croix District Division of Curriculum and Instruction held its first S2STEAM Expo on Thursday, May 30, at the John H. Woodson Junior High School.
Similar to the districts' STEAM fairs, students from participating schools presented scientific research or projects which correlated to the different areas of STEAM. However, this expo included social studies, thus the name S2 (social studies) STEAM. Participating schools were Ricardo Richards, Pearl B. Larsen, Eulalie Rivera elementary schools, John H. Woodson and Elena Christian junior high schools, and St. Croix Central High School (CHS).
An array of impressive, creative and intricate projects was displayed in grade-level specific categories: kindergarten, primary (grades 1-3), intermediate (grades 4-6), junior high (grades 7-8) and senior high (grades 9-12).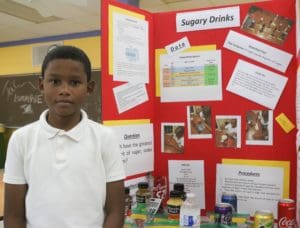 Judges of the competition included University of the Virgin Islands intern Dante James; Trinity Wilson and Morandy Charles; Director of Curriculum and Instruction Xiomara Ottley-Herman, Science Coordinator Rosa White; Mathematics Coordinator Juanita Boneque; English Language Acquisition Coordinator Jose Perez; Career and Technical Education Coordinator Juel Mills; and Health and Physical Education Coordinator Ophelia Williams-Jackson.
"It was great to see social studies, science technology, engineering, arts, agriculture, math and health within the sciences all displayed here at the first SSTEAM Expo," said Director Ottley-Herman.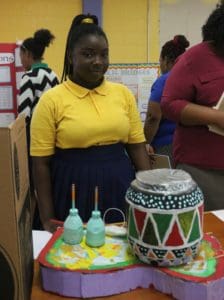 The St. Croix District Division of Curriculum and Instruction thanks sponsors Just Right Trucking LLC, Rolly's Transportation Services LLC and District Director of School Community Affairs Lorraine Benjamin-Matthew.
Thanks to the sponsors, all students received a certificate of participation; winners of best presentation and social studies received a $25 Amazon gift card; the overall SSTEAM winner received $50.
WINNERS
S2STEAM Winner
Zion Delanney
Moringa Power 2.0
John H. Woodson
Kindergarten
1st Place: Anita Thomas
Homemade Electric Play-dough
Ricardo Richards
Best Presentation
Primary Winners
1st Place: Kiyoshi Croskey
Sugary Drinks
Ricardo Richards
2nd Place: Liz Lauren
Polar Puzzle
Ricardo Richards
3rd Place: Ah'Jahnai Sweeny
Bird Brain Hungry Game
Ricardo Richards
Intermediate Winners
1st Place: Sariah Jonas
Does Chewing Gum Makes You Smarter
Ricardo Richards
2nd Place: Reina Guadalupe
Making a Popsicle Drone
Eulalie Rivera
2nd Place: Jeremiah Lloyd, Ajhiba Williams, Yanisha Wilfred
Balloon Powered Car
Eulalie Rivera
3rd Place: Julio Soto
Let There Be Light4th grade
Ricardo Richards
Honorable Mention
Shakirah Daniels
Homopolor Motor
Eulalie Rivera
Cadence Romero
Purifying Water
Eulalie Rivera
Rahjah Beazer
Put Your Water to Work
Elena Christian
Junior High
1st Place: Zion Delanney
Moringa Power 2.0
John H. Woodson
2nd Place: Klarisse Anne Casala
Measuring Speed of Light
Elena Christian
High School
1st Place: Aliarysbel Reyes
Hydraulic Bridges
St. Croix Central High
Mathematics
1st Place: Liandra Thompson
Color Road Game Board
Elena Christian
Health
1st Place: Angelina Springer
Cosmic Connections
Elena Christian
Engineering:
1st Place: Deondre Christopher
Sea Perch
John H. Woodson
Social Studies:
1st Place: Khalissa Daly
Culturally Music
Elena Christian
Art:
1st Place: Vianca Medina
Art Work
Elena Christian