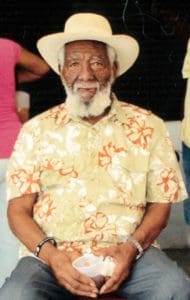 Ivan Stanley McIntosh Sr., also known as "FreeBug," of Estate La Grange, Frederiksted, died on May 12. He was 96 years old.
He was preceded in death by his mother, Elvina James McIntosh; father, Joseph E. McIntosh (also known as Manson); sons: Ivan McIntosh Jr. and Leander McIntosh Sr.; grandchildren: Walston and Anita Tonge; and sister: Ena McIntosh Williams.
He is survived by his daughters: Sylvia McIntosh Brathwaite, Elvina McIntosh, Dorothy V. McIntosh, Mercedes McIntosh-Moorehead, Estelle McIntosh, Daphne McIntosh-Rodriguez and May Louise McIntosh; stepdaughter, Bernadette Hansen; adopted children: Arthur Dennery, Delores, Calvin and Allick Griffith; and grandchildren; Ivan Stanley McIntosh III, Rodney McIntosh Sr., Ivan Stanley McIntosh IV, Felecia McIntosh, Kimberly McIntosh Portee, Lia, Leandera, Leana and Leander McIntosh Jr., Romeo Archibald, Angela Archibald-Diab, Bob, Elvina and Burgantine Tonge, Shevonne Tonge-Dawson, Uralis Fraites, D'laurie Guliex-Shorts, Itanya Guliex, Horasetta Suber-Wyre, D'niele Meade-Hodge, Lorenzo Hedrington, Laurel Moorehead-Suarez, Cristel and Cristeen Rodriguez, Yusef Copemann Sr., Karswell McIntosh-George and Maylecia McIntosh-Samuel.
He is also survived by step-grandchildren: Cale, Dale, Gale and Yale Hansen; adopted grandchild, Tamieka Phillipus-Cruz; 68 great-grandchildren; 7 great-great-grandchildren; nieces: Donis Brown, Mevilyn Williams, Sylvanie Edwards, Hulda Edwards, Isabel Edwads Markham and Cecelia Mack Allen; nephews: Julien Williams Jr., Kevin Williams, Henry Edwards and Michael Edwards; 21 great nieces and great nephews; daughter-in-law, Shirley McIntosh; stepson-in-law, Alphonso Hansen; and godchildren: Roy Rodgers, Annesta Hendrick and Rafael Gumbs.
Other survivors include special friends and family: Delois Ford, Ulysis Davila, Veronica (Cutie) Jeffrey, Rene and Dexton Menders, Jacqueline Heyliger, Gladys Walters, Rodney McIntosh Sr., Rasheda Thomas, Silvanus Samuel, Debra Howell and family, Clinton Hedrington Sr., Joan Henley, Maude Roberts, Rae Armstrong, Tracy, Joyann, Raenelle, Collin, Donal and Joyce, Esther Urgent and family, Otto Gittens and family, and the McIntosh, Menders, Ross, Hendrickson, Hodge, Gittens, Bascombe, Berry, Miranda, Rodgers, Alphonse, Williams, James and Perkins families; as well as other relatives and friends too numerous to mention.
Special thanks to V.I. Supreme Homecare, Human Services, Continuum Care and its staff, Nurse Lori Fangman, Shauna Mitchel, Carla Williams, Paddy and Vilma.
The viewing will take place at 9:30 a.m. followed by the funeral service at 10:30 a.m., Tuesday, May 28, at St. Patrick's Catholic Church. Interment will follow at Frederiksted Cemetery.