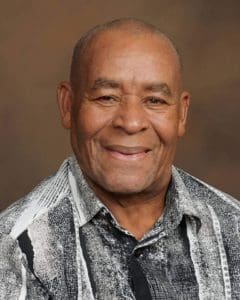 Aurin Johnson, better known as "Rex," of La Grange, Frederiksted. He died on Monday, May 13, at MD Anderson Cancer Center in Houston, Texas. He was 77 years old.
He is survived by his wife, Leona "Audrey" Johnson; daughters: Jamie Mitchell, Mary Bicette and Johanna Johnson; sons: Anthony JnBaptiste and Joel Hinds-Ortiz; brothers: Linus Johnson, Ernest Joseph, Lucious Johnson, Octavius Johnson, Albert Cherubin, Kennedy Neptune and Marci Neptune; sisters: Virginia JnBaptiste, Veronica Pierre, Veronica Joseph and Agatha Palton; son-in-law, Kirtney Mitchell; daughters-in-law: Tasha JnBaptiste and Cynthia Hinds-Ortiz; grandchildren: Jhordae' Perez, Brandon JnBaptiste, Paris JnBaptiste, Ethan JnBaptiste, Joecyn Hinds-Ortiz, Mikayla Hinds, Ain Polius, Micah Alexander, Michiah Alexander, Mikey Alexander, Micahlyn Alexander, Nalley Alexander and Princess Mitchel.
He is also survived by great-grandchildren: Mackelia, Hailey, Mikey, Ariana and Jamiel; godchildren: Devonte, Muriel and Jules; and nieces: Deborah Alfred, Jasmine Alfred, Beverly Johnson, Nadege JnBaptiste, Vernette Johnson, Gilda Johnson, Shirley Pierre-Auguste, Edna Joseph, Gabriella Joseph, Shelba Dujon, Cleo Johnson, Annalise Felician, Kimberly Felician, Nasha Felician, Olivia Joseph, Nichole Herman, Albertina Cherubin, Albina Cherubin, Alna Cherubin, Enith Soudatte, Brittney Daniel, Della Daniel and others too numerous to mention.
More survivors are nephews: Godfry JnBaptiste, Javonta Alfred, Eaton JnBaptiste, Edwin JnBaptiste, Rickey JnBaptiste, Lyndon Joseph, Lyndon Joseph Jr., Eden Felician, Winel Johnson, Danley Joseph, Anthony Johnson, Kent Joseph, Lory Pierre, Kennedy Joseph, Steve Constable, Kim Erstherre, Kernan Soudatte, Nilbert Cherubin, Ray and others too numerous to mention; sisters-in-law: Marcelin Johnson, Alicia Johnson, Jeanine Volney and Lenny Baptiste; brothers-in-law: Andrew Hilton, Milton Henry, James Henry and Victory Lawrence; and cousins: the Johnson family, the Joseph family, Micus Cyril and family, the Augustin family, the Clercent family, the Francis family, Madrie Constable, the Constable family and others too numerous to mention.
Other survivors include special friends: Dawn Bruce and family, Mr. and Mrs. Oliver, Keith Simon and family, Mac Poleon, Peter Clifford (aka PC), the Fatal family, the Theodore family, Gui, Mr. Tex, Ernest and family, the Mitchell family, the Sackey family, the Richards family, Jennifer Brady and family, Flor Porcil and family, Agatha and Irvin Christina, Agatha Williams, Arlene Armstrong and family, the Canaii family, the Randolph family, the St. Clair family, the Marcellin family, Julie Noel and family, the Harris family, the Fanus family, the Johannes family; as well as others too numerous to mention.
There will be a viewing at 9 a.m. followed by a funeral service at 10 a.m., Friday, May 31, at St. Joseph Catholic Church. Interment will be at Kingshill Cemetery.