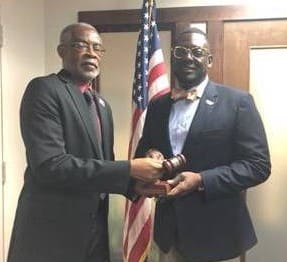 The U.S. Virgin Islands Economic Development Authority (USVIEDA) elected three new board members — Kevin A. Rodriquez, Gary Molloy and Haldane Davies Ph.D. — to be officers on Wednesday, May 15.
This election took place at the USVIEDA office on St. Thomas in Nisky Shopping Center and via videoconference at William D. Roebuck Industrial Park conference room on St. Croix. They will serve in their new capacities, effective immediately.
Kevin A. Rodriquez, deputy chief of staff to the Governor of the U.S. Virgin Islands, was elected as the new chairman of the board, replacing Jose' A. Penn who has served as the USVIEDA Board chairman since 2014.
"As the newly-elected chairperson of the USVIEDA Board, I definitely look forward to working with the commissioners and staff members relative to advancing the economic progress of our territory, particularly through the work of the authority and our relationships with our partners in the public and private sectors," said Rodriquez.
Penn, who will continue to serve as a board member, reflected on his tenure while welcoming the incoming board officers.
"As a member of the USVIEDA Governing Board from April 2004 to present, and being the Board Chairman from December 2014 to May 15, 2019, I've had the privilege of serving our territory in a most meaningful way," said Penn. "The best part of providing community service has been working and collaborating with USVIEDA management and staff, along with my fellow board members. I extend best wishes to the incoming board officers as we continue to work towards an improved quality of life for our territory," he said.
Gary Molloy, commissioner-designee for the Virgin Islands Department of Labor, was elected vice chairman of the USVIEDA Board, replacing outgoing vice chairman Philip Payne. Molloy deemed his election an honor and an opportunity.
"I am honored to be elected as the Vice Chair of the USVIEDA Board. It is very important that this authority fulfill its role to work tirelessly to help improve the USVI economy," said Vice Chair Molloy.
"This opportunity to be a part of the leadership on the USVIEDA Board comes at a critical time as our community is still recovering from the two natural disasters while it works simultaneously to attract various industries that can build, support and sustain economic development; increase the Virgin Islands' ability to be competitive; and ensure that our territory has the necessary tools and resources to create opportunities for jobs and capital investment," said Molloy.
Previous board member Haldane Davies Ph.D. was also elected as the new board secretary, replacing Avery Lewis.
"It is a privilege to work alongside our board members who make countless, important decisions that are in our territory's best interest," said Kamal I. Latham, USVIEDA chief executive officer.
"I am extremely grateful for the diligent leadership, service and guidance of our previous board members and officers, and I look forward to building new relationships under the leadership of our incoming board officers," he said.
To learn more about the USVIEDA, visit www.usvieda.org.