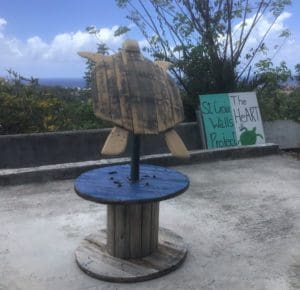 The St. Croix Walls Project is calling for artists to submit renderings for its HeART of Turtles project. Submissions may include narrative descriptions, photos, sketches or scale models, and they need to be submitted on or before June 15 in hard copy to PO Box 5213, Kingshill, VI 00851 or electronically to [email protected].
The following dimensions are approximate as each sculpture is individually crafted: the overall height, including base is 70 inches. Rear flipper to tip of nose is 49 inches. Shells 30-inches wide and 34-inches long. Spools are 36 inches in diameter/27 inches tall.
A full-size Turtle sculpture may be viewed in person upon request. Artists may contact Glenda Smith at 786-514-7850 to schedule a viewing and/or discuss project concepts.
The HeArt of Turtles project is a unique sculpture project and differs from others around the world in that the Turtles are made from salvaged and repurposed material from in and around Saint Croix.
A plaque on each sculpture will include the names of the sponsor, artist and sculptor. Sponsors will be presented with the renderings and will choose artist and location for their sponsored work. Selection results will be emailed to all applicants who submitted renderings on or about Aug. 1. Selected artists will receive a stipend of $350.
The structure of the turtle body, post and stand may not be altered. The creator may paint or attach tiles, glass, metal or other durable materials to the turtle, but should consider the weight of the finished sculpture. Items such as hats, utensils, recyclables, etc. can be used. The board is requesting that no proposals involving guns, political affiliations, violent, drug or sexually explicit renderings be submitted.
Sites for ideas and examples the artist may wish to search include Hearts in San Francisco, www.cowparade.com or www.saratoga.com/horsestatues.
Sponsors to date include AECOM, 84 Lumber, St. Croix Hotel and Tourism Association, Sandcastles on the Beach, VI Cargo, Franklins on the Waterfront, Joel and Jackie Holt, the Alan Smith family and Gretchen Goslin.
A "hatching ceremony" will be held in November 2019 (date and location to be announced) to display all Turtles. They will then be moved to predetermined viewing sites and secured for public viewing for approximately 14 months.
Confirmed location sites to date are areas of Royal Furniture, Mall of St. Croix (formerly Sunshine Mall) Cane Bay Beach, Cheeseburgers, Sandcastles on the Beach Hotel, VIGL Operations LLC (horse racing track), Sunny Isles and Leatherback Brewing Company.
The Turtle sculptures will be auctioned off in February 2021 with net proceeds going to Project Promise and Jr. Scientists in The Sea (JSIS).