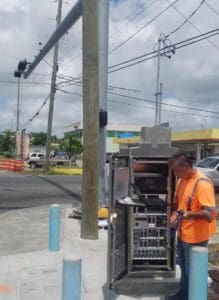 The Department of Public Works (DPW) notifies the public of four new traffic signal activations at the following intersections on Melvin Evans Highway: Good Hope, Carlton, Williams Delight and Paradise.
The new signals are replacing the previous ones that were damaged by hurricanes Irma and Maria. The signals were placed in flashing mode for the last three days as an indication to motorists that they would be operational shortly. DPW personnel activated the traffic signals on Monday.
Follow DPW on Facebook @usvidpw and @vitranusvi. You can also log on to www.dpw.vi.gov and www.vitranvi.com to stay abreast of all things V.I. Public Works.