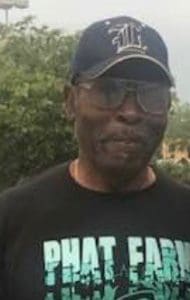 Leroy Dalton Willock, also known as "Little," died on April 19 at the age of 73 years.
He was preceded in death by his brothers: Conrad Willock and Robert Irish; and sister, Veronica Roberts.
He is survived by his wife, Pauline Willock; daughter, Sharon Willock; stepdaughters: Blondel and Andrea Christian, and Ayodele Richards; stepson, Shelton Christian; adopted daughter, Najah Spence; grandchildren: Akeem Nesbitt, Kimoi, Keasha and Kewanie Willock, Makeda Hill Matthews, Sadique Hill, Jafari Martin, Shakira Clarke, Shomari Osbourne and Shania Brooks; great-grandchildren: Casely Josiah and Kamron Nesbitt; brothers: George Willock and Daniel Irish; and sisters: Elizabeth Athill and Margret White.
He is also survived by nieces: Dianne, Claudette, Geraldine, Patricia and Suzette Willock, Arlene Athill Graham, Mary Irish and Elvira Flores; nephews: Samuel, Ken, Benson and Marvin Willock, Issiah Punther, John Fergus, Charles and Kevin Athill; sisters-in-law: Ruthlyn and Junie Willock, Angela Phillip and Sarah Desilva; cousin, Charles Fenton; friends: Rolston Daniel and the staff of Daniel's Bakery, Tyrone Benjamin, Tyrone Ambrose, Sharon Thomas and family, and Eugene Issac.
Other surviving friends include: Geraldine Jonas, Marva Bedeanu, Mighty Happy, Blood Stone, Steadroy Lashley and family, Charles Dowdy (aka Solo), Fitzroy Lewis (aka Boss), Verona Marsh and family, Kenford and Hycinth George, Catherine Brown, Happy and Mickey Williams Myers, Bad Company, Glen Barnard and the Emmanuel Gospel Chapel family; neighbors: Trevor Merchant, Miss Matthews, Carlos Montanez and Melanie; as well as many nieces and nephews, family and friends too numerous to mention.
A viewing will be held from 3-5 p.m. on Friday, May 17, at Divine Funeral Services Chapel, 129 Peter's Rest.
A second viewing will be held at 9 a.m. followed by a funeral service at 10 a.m. on Saturday, May 15, at Emanuel Gospel Chapel, 56 Eliza's Retreat Christiansted, St. Croix. Interment will be at Kingshill Cemetery.