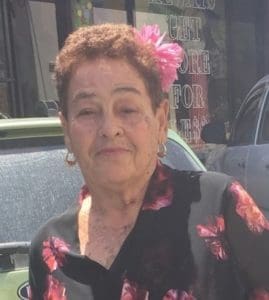 Peggy Soto Acosta of Estate Work & Rest died on Wednesday, May 3. She was 76 years old.
She is survived by her son, Jose Carlos Acosta; daughter Peggy Lee Nestor; daughter-in-law, Elizabeth Morel Acosta; son-in-law, Vincent Nestor; sisters: Betty Huff, Felicita Garcia, Yvonne and Sara Soto; brothers: Missionary Jesus Soto, Nicanor Soto III and Luis Garcia; uncle, German Garcia; aunts: Inocencia, Louisa, Epifania and Benjamina Garcia; granddaughters: Sheila, Eva, Jessica and Onika Niomi Acosta, Annie Garcia, Luz Maria Acosta, Marianna Polanco, Sharifa Nestor, Sharleen Nestor and Uralis Fraites; grandsons: Luis, Juan Carlos and Jose Carlos Acosta Jr., Pedro Polanco, Vincent and V'Anthony Nestor; and great-grandchildren: John'Alayah and Johnesha Challenger, Vincent III, Nasir and V'Jay Nestor, Shawn Skepple and Shaw'Layah Skepple.
She is also survived by brothers-in-law: Juan Acosta, Cesar Anibal Acosta and Felix Garcia; sisters-in-law: Carmen Ramos, Carmen Loida Ortiz Soto, Naida Soto, Iris V. Garcia, Carmen "Gloria" Acosta, Luz Maria Acosta and Lydia Santos; special nieces and nephews: Rosa, Ana Luz and Maria Garcia, Diana Hernandez, Nancy and Oscar Garcia, Carlos J. Soto Jr., Julio and Miguel and Marialisa Soto, Ana Ayala, Linda and Lola Soto, Joe Soto, Benjamin, Eddie, Samuel, Antonio and Nellie Ramos, Juan "Papo" Acosta Jr., Iris Magras, Benedicta Donastorg, Carmen Acosta, Hector and Samuel Acosta, Lizette Encarnacion, Yolanda Maysonet, Minerva Gantier and Ruben Acosta Jr., Janytsie Saldaña, Luz Yomary Pace, Cesar A. Acosta Jr., Carlos Alberto and Nelson Acosta, Marianela Cotto and Margaret Acosta; and godchildren: Carmelo Torres, Dion Knight and others too numerous to be mention.
Other survivors include very special friends: Guillermina Ayala, Beulah Bruce, Shanyce Hanley and Keith Jacocks; special friends: Edna Encarnacion, former Lt. Gov. Gerard "Luz" James, former Gov. Kenneth E. Mapp, former Sen. Samuel Sanes, Sen. Oakland Benta, Agatha Nestor and family, Ana Morales, Graciela Soto and family, Emilio Rodriguez Jr., Jeremy Newton, Eugenio "Papo" Cruz Jr., Orlando Tavares, Juan Correa, Anna Hall, Myra Hendricks, Jose Luis Reyes, Roberto Browne, Maritza Padilla, Virginia "Taty" Parilla, Enrique Santos, Telma Bird, Carol Liburd and family, Carol Nanton and family and Rosita Felix, Selena Garcia, Justa Reyes and Maria Agramonte; as well as other family members too numerous to be mentioned.
Special thanks to Dr. Nielsen. The family requests those in attendance wear festive colors.
There will be a viewing at 10 a.m. followed by a funeral service at 10:30 a.m., Monday, May 13, at Holy Cross Catholic Church. Interment will be at Kingshill Cemetery.