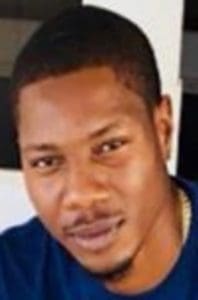 Raheem A. Springer Sr., also known as "Supa," died on April 18. He was 25 years old.
He is survived by his mother, Ann Marie Wong; father, Ulrick A. Springer; daughters: Alanique Springer, Jehreema Nathaniel, Alaysia Williams, Imani Springer and Victoria Springer; sons: Raheem Springer Jr., Allan Springer, Syheem Springer and Alleem Springer; grandparents: Allan Wong, Annette Hendricks-Thompson, Sigismund Thompson, Elsa Springer and Lloyd Springer; sisters: Amaya Doward, Jamila Springer, Rashonda Yarwood, Sharifa Springer and Adrianna Springer; brothers: Jahmal Brewster, Johonathon Doward and Amani Doward; and nieces: Imani Timogen and O'Ryan Greaves.
He is also survived by his nephew: Zion Anthony; aunts: Dian Wong, Jacqueline Springer, Monique Smith and K'Shante Springer; great aunts: Maria Belle, Anna Simmons, Edith Figueroa, Shanice Newton and Cristine Wong; great uncles: Peter Hendricks, Ohenio Hendricks, Alfred Hendricks, George Hendricks, Shawn Hendricks and Junior Antoine; and godparents: Joycelyn Henry, Electra Joseph-Bradshaw, Vuriley Harris, Rochester Lewis, Shelly O'Flaherty and Mariesha Maynard and Maria Thomas-Lewis.
More survivors are special friends and family: Pastor John D. Briscoe and First Lady Levell Briscoe, Refuge Tabernacle Church, Donald Warner Sr., Donald Warner Jr., Randy Lawrence, Akibo Bondieumaitre, Thomas Figueroa, Daryl Simmons, Beryl Doward, Gerard Doward Sr., Royce Lynch and family, Alfreda Smith-Ovesen, Rabbhi Moquete, Beverly Smith and family, Ramos and Parrilla family and Shawna Richards.
Other survivors include special cousins: Nazeem Augustin, Dwayne Hendricks, Natalie Correa, Felix, Tamika, Talima, and Tashima Garcia, Gregory Marcus, Geneva Simmons, Thomas Figueroa Jr., Michael Figueroa, Michelle Figueroa Thalia Figueroa, Tajahrik and Tajahnay Newton, Sara Hendricks, Denisha Parris, Shanah Ramos, Tynisha Garcia, Akeem, Jahmali and Elijah Johannes, Solomon and Symone Smith, Azarayah Johannes and Tedisha Lake; as well as other relatives and friends too numerous to mention.
The viewing will take place at 9 a.m. followed by the funeral service at 10 a.m., Thursday, May 9, at Refuge Tabernacle Church. Interment will be in the Frederiksted Cemetery.