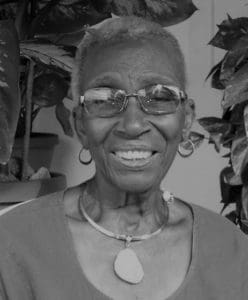 Doris Emelda Newton-Jackson of Frederiksted passed away peacefully at her home on May 1.
Doris was born in Fredensborg, St Croix, in the U.S. Virgin Islands on May 2, 1927, to Malvina Boxill-Taylor of Barbados and Benjamin Newton of St. Christopher (St. Kitts). She attended the Diamond School and continued her education, receiving nursing assistant training through the Health and Hospital Corporation of N.Y.C. She worked as a nursing assistant at Goldwater Memorial Hospital (N.Y.C.), the Queen Louise Home for the Aged (St. Thomas) and the Juan F. Luis Hospital and Medical Center over the course of her career.
She is preceded in death by her parents: Benjamin Newton and Malvina Boxill; two brothers: Jerimiah Newton and Joseph Taylor; six sisters: Eva Parris Edwards, Francesca Newton-Harris, Edna Taylor-Sealey, Kathleen Theolinda Taylor, Ann Elcina (Coolie Girl) Allen, the Rev. Evadney Newton-Elwi; and her daughter, Ida Delores Davis-Harris.
Doris is survived by her daughters: Paulette Arnold Ducard, Claudette Cornelius Olson and Barbara Newton Thompson; two sons: Dwaine A. Newton and Kevin Jackson; nine grandchildren: Deidre and Brian Thompson, Malik and Akua Ducard, Tanya Williams, Irving and Tiffany Harris, Steven and Olga Olson; 13 great-grandchildren: Kenneth Brian Boykin, Brandon McGee, Bradley Scott, Christen Thompson, Harrison, Hudson and John Henry Ducard, Kadeem Olson, Khadeeja Olson, Delores Williams, Tyler, Steven Jr. and Jasmine Olson; and five great-great grandchildren: Teyah Donovan, Issac and Amina Boykin, Cristen and Leonardo Scott.
She is also survived by special relatives: Eunice Pemberton, Corliss James, Margery Civil Brown (nieces), Hope F. Thornhill (great niece), Cameron Richardson and Jahmal Christian (great-great nephews); special friends: Mrs. Awilda Branch, Mrs. Enid Edwards Buchanan, M/M Morris Benjamin, M/M Julien McSween and Mrs. Noreen Vigilante.
A viewing will take place from 3-5 p.m., Thursday, May 16, at James Memorial Funeral Home.
A second viewing will be held at 11 a.m. followed by a funeral service at noon on Friday, May 17, at the Beulah A.M.E. Zion Church located in Estate Bethlehem. Interment will be at the cemetery of the Beulah A.M.E. Zion Church.
Condolences may be left in Doris' online guestbook at www.yourtribute.com
The family wishes to extend their gratitude to Continuum Care VI for their support in her final days.