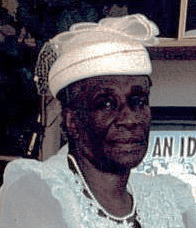 Neaherme Mary Joseph Hopson Gittens died on April 17. She was 85 years old.
She was preceded in death by her mother, Isabell Joseph; father, Edwin Hopson; son, Wilton Joseph; brother, John Douglas; and sister: Tafred Joseph Hopson.
She is survived by her sons: Michael Joseph, Lyndell, Lebbeus and Elvin Gittens; daughters: Wilma, Jennifer and Iona Gittens; brother, Samuel Joseph; sisters: Vistula Joseph Charles and Joyce Hopson Ferrette; more than 20 grandchildren; over 15 great-grandchildren; nieces and nephews too numerous to mention; special friends: Mr. and Mrs. Bernett, Patsy, Dowe Rev. Henry James and family, the Griffith, Victors and Lett's families, Vincent Bergan, Mr. and Mrs. Clancy Etienne, James Hodge, Sis. Hamilton, Sis. Agnes, Sis. Collymore and the entire family; as well as other relatives and friends too numerous to mention.
The viewing will take place at 10 a.m. and the funeral service at 11 a.m., Saturday, May 11, at Kingshill Pentecostal Church. Interment will follow at Kingshill Cemetery.