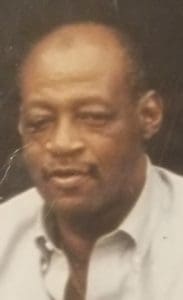 Alric Miller Sr. of Mars Hill died on Tuesday, April 23. He was 76 years old.
He is survived by his sons: Albert Miller (Bert), Alric Miller Jr. and Adrian Miller; spouse, Yvonne Smith-Miller; daughters-in-law: Christina Colbourne-Miller and Karen Sealey-Miller; grandchildren: Shaeem, Shaakilah, Shanoui, Shaquan, Shamal, Shaki, Asheniqua, Alfredo, Destin, Kasim, Shakima, Ra'Shanda, Hasani, La Chante, Kesira, Ny'Nkoei, Keshani and Cynne Miller; great-grandchildren: Jahymah, Rae'Nyah, Sae,Daio, Ky'Denn, Kakynnedi, Camron, Cody, Destin, Alissa, Kasim Jr., Kalayla, Asa and Lyemaira; and sisters: Maria James ,Beulah Roberson ,Melita Miller-Menders and Gladys Miller-Anthony.
He is also survived by his brother, James Parris; sisters-in-law: Celine E. Parris and Shirley Testamark; brothers-in-law: Ned Roberson and Neville A. Anthony; and nieces: Beverly Coffee, Laura Buffington, Nathalie Carbon, Paulette Johnson, Irene Phillips, Ramona Menders, Rosita Menders, Gertrude Menders, Jacqueline Menders, Louise Petersen, Lynette Gumbs, Delacie Sexius, Nerene Prince, Beverly Roberts, Diane Roberts, Peggy Roberts, Marcel Parris, Tanya Parris, Renelle Parris, Amya Parris and Mahalia Parris.
Other survivors include nephews: Alfredo James, Nathaniel James, Donald Francis, Leon "Malcolm" Thomas, Almeric Menders, Noel Menders, Wallace Menders, Reynard Menders, Rudy Ross, Barry Roberts, Tyrone Roberts and James Parris; great nieces and great nephews too numerous to mention; cousins: Leander Trotman, Mecedes Hodge, Maureen Trotman, Malvaughn Trotman and Sharon Ruan; godson, Dijon John; close friends: Sidney, Dave, Sim, Mabuto, Wayne (New Come) and Chunks, Baker, Halls, Magda, Elroy (Beaver), Aaron Krigger and Doris Harris. As well as other relatives and friends too numerous to mention.
There will be a viewing held at 9 a.m. followed by a funeral service at 10 a.m. on Friday, May 10, at St. Paul's Episcopal Church. Interment will be at Kingshill Cemetery.