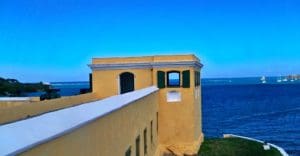 The landscape and historic structures of the Christiansted National Historic Site are one of the most complete and best-preserved assemblages of 18th and 19th century Danish Colonial buildings found in the New World.
Fort Christiansvaern is a French style Danish Colonial fortification that commands the Christiansted harbor entrance to the north. The fort protected shipping from potential attacks by foreign invaders, privateers, and possibly pirates, enforced customs duties, housed prisoners, and quartered Danish troops responsible for internal security on the island of St. Croix.
The fort is also the oldest structure in Christiansted. Built by enslaved Africans and conscripted Danish soldiers, its construction started in 1738 with the last major additions dating 1835–1841. The original fabric of the fort remains largely unaltered.
Between April 15-25, 2019, the National Park Service (NPS), Historic Preservation Training Center (HPTC) team will begin a project to replace the fort main entrance gate. The gate is made of massive solid wood, comprised of two separate doors that protect the fortification. The gate is the first feature every visitor to the park sees entering the fort. The current gate, with overall dimensions of 9ft. x 12ft. x 3-inch thick is a reproduction circa 2000 when it was partially replaced and new reproduction hardware was installed.
This gate, now 17 years since its last major repair/restoration, has deteriorated due to increased rainfall, heat, rotting boards and most recently hurricane force winds from both hurricane Irma and Maria, Sept 2017.
This project will install a temporary wooden gate within the entrance walls and remove the existing gate. The gate pieces will be shipped to NPS HPTC in Frederik, Md., where the HPTC Wood-Crafting Division will undertake a complete reconstruction of the gate to historic specifications. The new gate will return to St. Croix ready for installation in October 2019.
During the construction of the temporary gate and the removal of the main gate entrance, the fort may be restricted. NPS requests that during the visit people be aware of the workers crew and their work areas.
For further information, contact Park Headquarters at 773-1460 or Daniel Ritter, facilities chief, at 773-1460, ext. 221 [www.nps.gov/CHRI]