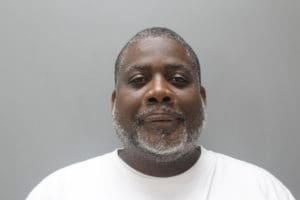 The V.I. Police Department on Monday arrested 43-year-old Corsic Aaron and charged him in a Jan. 25 robbery from a home in Estate Frydenhoj.
According to police, at about 8:59 p.m. Jan. 25, the victim filed a police report stating that 15 pieces of her jewelry, with a total value of more than $9,000, had been stolen from her residence. The victim identified Aaron, who she called a former male acquaintance, as the person who took the jewelry.
At about 2:15 p.m. Monday, April 22, the woman said she was at the Virgin Haven Bar and Restaurant ordering some food when she saw Aaron wearing some of the jewelry that had been removed from her residence. She called 911 and the officers responded. Aaron was brought to Adam Command, where the jewelry was identified by the victim as her stolen jewelry.
At around 3:30 p.m Monday, police arrested Aaron and charged him with grand larceny and possession of stolen property. Bail was set at $25,000. Unable to post bail he was turned over to the Bureau of Corrections pending his advise of rights hearing.