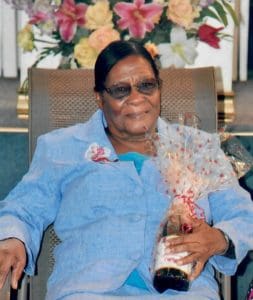 Nora Regis died on April 3.
She was preceded in death by her husband, Eustacius Regis; mother, Isabel Alexis; and father, George Alexis.
She is survived by her daughter, Mary Charles; sons: Patrick Thomas, McDonald Thomas and Bernard Alexis; daughters-in-law: Sylvia Thomas and Theresa Alexis; grandchildren: Shermin Charles, Nola Fahie, Ed Charles, Lesa Charles, Talisa Alexis, Sherika Scottland, Jonel Scottland, Kirby Alexis, Rogier Fahie, Jeffery Thomas, Jeffers Thomas, Noah Thomas, Kareem Xavier and Chedelle Xavier; and great-grandchildren: Cherish Xavier, Kaili Alexis, Jayce Victor, Taraiyah Victor and Brooklyn Thomas.
Other survivors include nieces: Helen Peters, Eileen Andrew, Joycelyn Andrew, Mona Andrew, Cheryl Andrew, Cherriese Andrew, Cherise William, the entire Azille family and entire Rabess family; nephews: Ezeikel Andrew and Morris Andrew; special friends: Eric Massicott, George Prevost, the Massicott family, Walter Marius, Pastor Virginia Ventura, the Miracle Revival Deliverance Tabernacle family, the Abraham family, Ms. Garcia, Brenda La Force, Arlene Darcheville, John and Dawn Bethelmie, Ray and Janie Thomas; as well as other relatives and friends near and far too numerous to mention.
A viewing will be held from 3-5 p.m., Friday, April 26, at Divine Funeral Services Chapel, 129 Peter's Rest.
A second viewing will take place at 10 a.m. followed by a funeral service at 11 a.m., Saturday, April 27, at Miracle Revival Deliverance Tabernacle Church, Beeston Hill. Interment will be at Kingshill Cemetery.