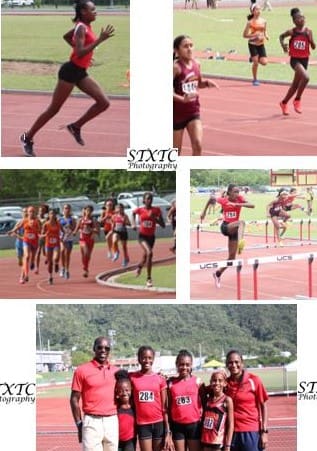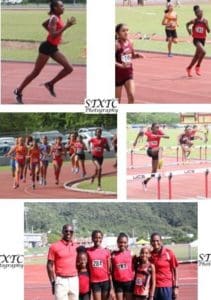 The St. Croix Track Club (STXTC) congratulates its athletes, who competed in the finals qualifying performances that were recently held in Penuelas, Puerto Rico. Akyra Joseph, Jeniqua Weekes and Michelle Smith competed in the AAJI (ASOCIACIÓN DE ATLETISMO JUVENIL E INFANTIL) league on Saturday, April 13.
Joseph was 5th of 24 athletes in the long jump with a distance of 4.22m and 11th of 60 athletes in a time of 45.97sec. in the 300m; Weekes was 16th of 19 athletes in the long jump with a distance of 2.79m and 28th of 40 athletes in the 200m with a time of 34.99sec; Smith was 1st of 30 athletes in the 1000m and 1st of 15 athletes in the 60m hurdles in a time of 3 min. 10.11sec and 10.50sec, respectively.
The top eight athletes in the sprints and top 12 athletes in the field events and distance races earned a spot in the AAJI Finals in early May. This standing is achieved by looking at the performance of the two qualifying meets. Smith will be contesting the 60m hurdles and the 1000m run, while Joseph will contest the long jump.
STXTC is very proud of all of its Mustangs as they continue to work hard in their classes and in track and field.
For questions or videos, contact Keith Smith at 277-1123. Full results can be found at the website: www.finallaptiming.com/AAJI/